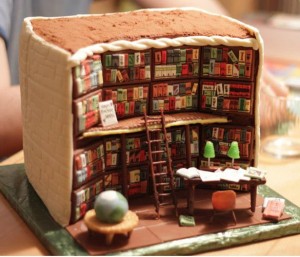 The University of Iowa Libraries invites faculty, staff, students, and the Iowa City community to celebrate the annual International Edible Book Festival April 1 by crafting a delicious book to share and, of course, eat.
To participate, follow two simple rules: entries must be edible, and they must have something to do with books as shapes and/or content. Edible books will be displayed on April 1 in the Main Library Learning Commons, Group Study Rooms 1103 and 1105 in the South Lobby from 3:00-3:45 p.m., followed by a book tasting.
Prizes will be awarded in multiple categories including Best Book Structure, Best Literary Allusion, Judge's Favorite, Audience Favorite, and Best Tasting. Judges will include Executive Chef of the Iowa Memorial Union Barry Greenberg, and University of Iowa Libraries Special Collections Librarian Colleen Theisen.
Photos and updates will be added to the Twitter hashtag #ediblebookiowa.
The International Edible Book Festival is an annual event held on April 1 around the world. The event unites bibliophiles, book artists, and food lovers to celebrate the ingestion of culture and its fulfilling nourishment. Participants create edible books that are exhibited, photographed, and then consumed. Information and inspiration can be found at www.Books2Eat.com.
For more information or to submit an entry, please contact Brett Cloyd via email at brett-cloyd@uiowa.edu or by telephone at (319) 335-5743, and bring your entry to Room 1103 between 2:00-2:45 p.m. on April 1.
Individuals with disabilities are encouraged to attend all University of Iowa-sponsored events. If you are a person with a disability who requires a reasonable accommodation in order to participate in this program, please contact Brett Cloyd in advance.