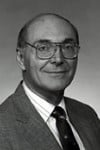 Richard M. Caplan, July 16, 1929 – August 20, 2019
This issue of Notes from the John Martin Rare Book Room is dedicated to the memory of Richard D. Caplan, long time supporter and contributor to the
University of Iowa History of Medicine Society.
In his tenure at the University, Dick gave seven HOMS lectures to the Society. His sharp mind, his unwavering wit, and generous spirit will be greatly missed.
7 /16/1980 Jonathan Hutchinson: A Universal Specialist
Richard Caplan, Associate Dean for Continuing Medical Education
6 /7 /1983 Byzantine Medicine–The Link Between Ancient and Modern
Richard Caplan, Associate Dean for Continuing Medical Education
9 /13/1988 How Fingerprints Came Into Use for Personal Identification
Richard Caplan, Prof., Dept. of Dermatology; Director, Medical Humanities Program & Assoc. Dean
9 /26/1991 150 Years of Leprosy Imported into Iowa: People, Primates and Armadillos
Richard Caplan, Professor, Department of Dermatology; Director, Program in Medical Humanities
10/28/1997 Anatomy, Arts, and the Healing Art
Richard Caplan, Professor Emeritus, Department of Dermatology and Program in Biomedical Ethics and Medical Humanities
3 /22/2000 HOMS: In Our Own Times
Richard Caplan, Professor Emeritus, Department of Dermatology and Program in Bioethics and
Humanities
10/23/2014 The Story of Leprosy in Hawaii (and Iowa)
Richard Caplan, Professor Emeritus, Department of Dermatology and Program in Bioethics and
Humanities