JOHN OF GADDESDEN (1280?-1361). Rosa Anglica practica medicine a capite ad pedes. Pavia: Joannesantonius Birreta, 1492.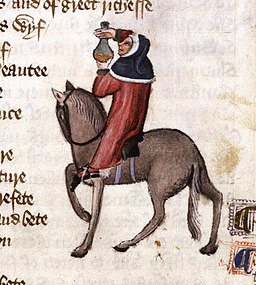 John studied at Merton College, Oxford, then practiced first at Oxford and later in London, where he was highly esteemed among his contemporaries. He was the first Englishman to be appointed court physician to an English king, Edward II, and is said to have been Chaucer's model for the "Doctour of Physik" in the Canterbury tales.
Rosa Anglica was written around 1314 and was the first printed medical book written by an Englishman. It is not noted for its scientific approach to medicine and is not much more than a medical advisor for the layman. However, John covered his subject thoroughly and the book is typical of other medical works of the period. John called his book Rosa Anglica because a rose has five petals and his book had five parts which covered fevers, injuries, general hygiene, diet, and therapeutics. Being impressed with his ability and perhaps conceited, John made it clear to his readers that his book was superior to all other medical treatises, just as the rose is superior to other flowers.
You may view this book in the John Martin Rare Book Room, Hardin Library for the Health Sciences.