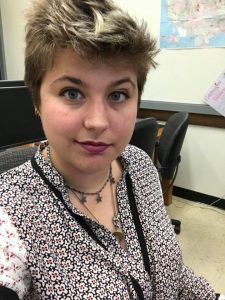 Mac Gill, graduate student employee at Hardin Library and current Master's student in Library and Information Science and student in the Book Arts certificate program was selected to be a 2019 Digital Humanities Summer Fellow at The University of Iowa Digital Scholarship & Publishing Studio.
Mac's Digital Humanities Studio project is a digital map of The Tale of Genji (the world's first novel) and focuses on visually depicting location and travel in the text and conceptualizing how places both near and far affected not only the world of the text but the real life world of Heian Period Japan.
Mac is also hoping that her project will help researchers and students decentralize the Tale from Kyoto and look at how far off places impacted daily life through poetry and word of mouth.