ABD AL-ʻAZĪZ IBN ʻUTHMĀN (fl. 950 – d. 967) AND Danck, Joannes fl. 1331. Libellus ysagogicus Abdilazi, id est servi gloriosi Dei... 1485
Abu al-Saqr Abd al-Aziz Ibn Uthman Ibn Ali al-Qabisi l-Mawsili al-Hashimi, generally known as Al-Qabisi, (Latinised as Alchabitius or Alcabitius), and sometimes known as Alchabiz, Abdelazys, Abdilaziz 'Abd al-Azîz, عبدالعزيز القبيصي) was an Arab astrologer, astronomer, and mathematician.
Al-Qabisi is best known for his treatise on judicial astrology, Introduction to the Art of Judgments of the Stars. This work survives in at least twenty-five Arabic manuscripts, and over two hundred manuscripts of its Latin translation, with twelve printed editions of the Latin work between 1473 and 1521. The Arabic text has received at least three Latin translations, which attracted several commentaries and were, in turn, translated into other European languages.
The 1473 copy, and others up until 1521, features writing about Al-Qabisi by John of Saxony. The rare 3rd edition (1473) of this classic scientific work recognized the authority of Ptolmy's Almagest. The present work is edited by Bartholomaeus Alten. These early printed editions of Alchabitius' "principle surviving treatise, a tenth century Arabic introduction to Astrology" are almost unprocurable. The book includes attractive large and smaller, ornamental initials, white on black.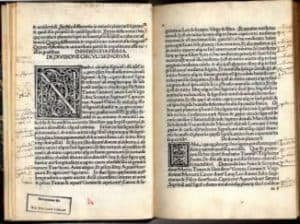 You may view this book in the John Martin Rare Book Room, Hardin Library for the Health Sciences. Make a gift to the Hardin Library for the Health Sciences by donating online or setting up a recurring gift with The University of Iowa Foundation.
View a digital copy of 1512 version owned by Qatar National Library