ROBERT KNOX (1791-1862). Man, his structure and physiology : popularly explained and demonstrated. 2nd ed. London ; New York: H. Bailliere, 1858.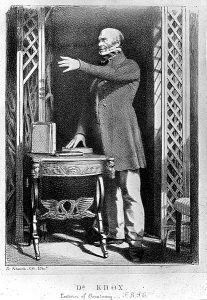 This popular introduction to anatomy and physiology was written by the noted – if somewhat infamous – Edinburgh anatomist Robert Knox. Knox believed that a knowledge of human structure and physiology was vital, forming the basis for a better understanding of the structure and nature of all living bodies.
He hoped that this elementary yet detailed introduction would encourage the reader to pursue further study in not only human anatomy, but also in the field of zoology. One of the best and most enthusiastic teachers of anatomy during the 19th century, Knox's emphasis upon practical dissection led to his indiscreet and notorious association with the Edinburgh 'resurrectionists', Burke and Hare. When their crimes came to light, he was implicated, savagely attacked in the literature of the day, and his effigy was burnt by the populace.
Although exonerated by Burke, an influential committee of his peers accused him of acting incautiously and failing to ensure that his assistants properly vetted their cadaver suppliers. The episode haunted him and tarnished the rest of his career. He then turned his attention to ethnology and anthropology, and found some success in these fields.
You may view this book in the John Martin Rare Book Room, Hardin Library for the Health Sciences. Make a gift to the Hardin Library for the Health Sciences by donating online or setting up a recurring gift with The University of Iowa Foundation.
View a digitized copy of the original edition of this work at the Internet Archive