Kären Mason, Iowa Women's Archives curator, traveled to Tokyo in November to speak at Rikkyo University. Sixty library students, archivists, and others attended her lecture, entitled "Archives for All: Creating More Inclusive Archives in the United States." Kären was invited by Ellen Hammond, former Japanese Studies librarian at Iowa and then at Yale, now living in Tokyo and teaching library courses at Rikkyo.
Among the highlights of her trip: glimpsing Mt Fuji from her hotel window, eating lots of delicious ramen and tempura, and visiting the National Women's Education Center and its Women's Archives Center in Saitama Prefecture, an hour's train ride from Tokyo. See below a few more memories from Kären's exciting trip!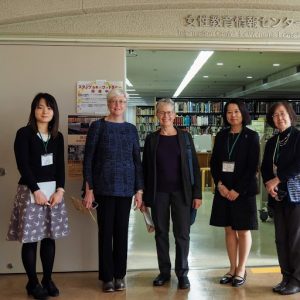 Ellen Hammond and Kären Mason with National Women's Education Center staff.
A treasure from the Women's Archives Center: a sign carried by members of the Shufu Rengokai (Housewives' Association), founded in 1948. The sign says: The Children of Japan are Commercial Addicts! The character depicted was a popular cartoon figure called Fuku-chan ("Little Fuku") used in advertising aimed at kids in the postwar period.
Kären and friend take a look at the stacks in the Women's Archives Center, Saitama Prefecture.