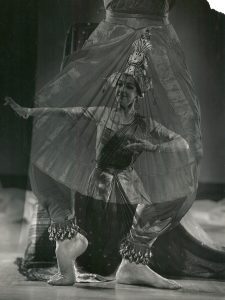 "Diversity in Dance." This was the motto of Edna Dieman and Julia Bennett  when they founded the Dieman-Bennett Dance Theatre of the Hemispheres in 1951. The Cedar Rapids dance school operated until 1997, with classes in classical ballet, as well as dance styles from Spain and India. Miss. Dieman and Miss. Bennett, as they preferred to be called, donated the records to the Iowa Women's Archives in 1996 and later years. Since then the photographs of dances, choreography notes, costume designs, and scrapbooks documenting Dieman's and Bennett's international training among many other items have been used by students and researchers alike.
Jane Nesmith, an assistant professor of rhetoric and director of the writing center at Coe College in Cedar Rapids. She explains her interest in the Dieman-Bennett Dance Theatre of the Hemispheres.
For the past few years, I've been doing research on Edna Dieman and Julia Bennett, who ran the Dieman-Bennett Dance Studio in Cedar Rapids from 1951-1997. They taught my dance teacher, so I think of them as my "dance grandmothers." I began visiting the Iowa Women's Archives, which holds their collected materials, to do research in the summer

Jane Nesmith, Coe College

of 2013, and I have been thrilled to find so many rich and interesting materials: diaries, manuscripts, newspaper articles, photos, recital programs, video footage and more. These items help the story of Miss Dieman and Miss Bennett come alive for me, and for the groups to whom I've given presentations. The librarians here are so welcoming: they find materials, make copies, and

have even connected me with others who are interested in the Dieman-Bennett papers. I don't know what I'd do without this resource that preserves and shares materials important to the story of these two important women.
– – Jane Nesmith, Coe College, 2017
University of Iowa associate professor and chair of the dance department Rebekah Kowal likewise found the records helpful for her research. Over the years, she has brought many of her dance students into the Iowa Women's Archives. Here, she describes some of what her students have loved about using the Dieman-Bennett materials:
I was first introduced to the Dieman-Bennett collection my first semester at The University of Iowa. An MFA student in dance had encountered the collection as part of an assignment given to her by Professor Linda Kerber in a women's history class. The assignment was to find a topic of interest in the Iowa Women's Archives and explore the resources accordingly. The MFA student was thrilled by the idea that there was a Cedar Rapids based dance company devoted to the teaching and performance of global dance, and that Edna Dieman and Julia Bennett had been so generous to leave their materials to the Iowa Women's Archives. At the time, I had not begun my current research project, which is investigating the significance of international dance performance during the postwar period, so I shelved away the information about the collection as something I would explore when ready. Flash forward 15 years, and the Dieman-Bennett collection has provided a wellspring of materials for my current book project as well as for several undergraduate dance researchers to discover. For the past two years, I have been working with several dance

Rebekah Kowal, University of Iowa

major honors students to examine the legacy of Dieman's and Bennett's mentor, La Meri, in southeast Iowa, including the inspiration to inaugurate the Dieman-Bennett

Dance Theater of the Hemispheres and related school. My students have thrilled at the opportunity to study Dieman and Bennett, poring through their records, especially diaries and Bennett's unpublished autobiography "A Chest of Jewels." They have taken the initiative to design and build a website to document their research, and to provide a lens onto the legacy of international dance performance in our region. We have all also appreciated the chance to view related videotapes, which are unique among repositories across the U.S. in demonstrating the educational lecture-demonstration format preferred by Dieman and Bennett as an approach to community engagement and education.
— Rebekah Kowal, University of Iowa, 2017
This post is a part of the Iowa Women's Archives' 25th anniversary celebration and exhibition: 25 Collections for 25 Years: Selections from the Iowa Women's Archives on display until December 29th at the Main Library Gallery. Gallery hours are available on the Main Library website. For more information about events, see our 25th anniversary website.