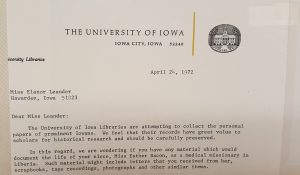 In 1972, the University of Iowa's Manuscript Librarian, Robert McCown, wrote a letter to Nora Leander. He hoped that she would donate the papers of her aunt, Esther Bacon, an Iowan and missionary to Liberia from 1941 – 1972. In 2018, Leander's niece, Ann Prekker, found the letter among Bacon's papers and decided to contact the Iowa Women's Archives. She knew it had been almost 50 years, but were we still interested? Oh yes, we were!
Originally from Sioux City, Esther Bacon was a medical missionary in Liberia from 1941 – 1972 where she worked in the hospital at Zorzor. Through her work as a midwife, Bacon delivered over 20,000 babies and provided medical care to people of all ages. She died in Liberia after succumbing to Lassa fever in 1972. The collection includes photographs of Bacon's time in Liberia, missionary newsletters, and many moving tributes to Bacon describing the lives she saved and the children she brought into the world. Bacon's papers will join the papers of other Iowa women who chose to be missionaries such as Myrtle Hinkhouse, Marian Farquhar, and Marianne Michael.
Prekker, her husband, and their two daughters traveled to Iowa City this week to donate Esther Bacon's materials and we are so glad they did. It may have taken 46 years for the papers to get here, but they were worth the wait!