The collections in the Iowa Women's Archives feature women from all walks of life. For Karissa Haugeberg, Assistant Professor of History at Tulane University, the papers regarding nursing and nurses are of special interest. Collections in this broad topic include papers authored or co-authored by Geraldene Felton, Professor and Dean of the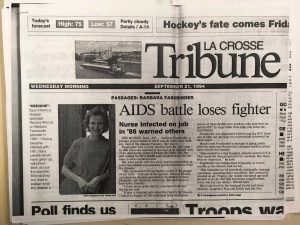 College of Nursing at the University of Iowa from 1981 to 1997, newspaper clippings and letters of support concerning Iowan Barbara Fassbinder, who advocated for the rights of AIDS patients from 1990 to her death in 1994, and records pertaining to the involvement in professional organizations of Myrtle Aydelotte, the Director and Dean of the State University of Iowa (now the University of Iowa) College of Nursing from 1949 to 1957. Haugeberg, who worked as a graduate assistant at the Iowa Women's Archives while she was a student at the University of Iowa, comments on her use of all of these collections for her latest project.
The records of nursing organizations and the papers of key nurses are fueling my research on the history of American nursing. The papers of Geraldene Felton, who served as the first African American dean of nursing at the University of Iowa, include her reflections on the women's liberation movement and

Karissa Haugeberg, Tulane University

her scholarship on topics ranging from nurses' work with abortion to the physical demands of working night shifts. Barbara Fassbinder's papers include newspaper clippings, speeches, and correspondence about one of the first nurses to contract HIV on the job. After she disclosed her illness publicly, Fassbinder traveled the nation, often speaking before church groups, in an effort to destigmatize the illness. Finally, Myrtle "Kitch" Aydelotte's papers and the records of UI's College of Nursing illuminate the relationship between nursing education and larger movements for social justice during the twentieth century. The breadth of IWA's collections is

enabling me to offer new insights about the history American nursing.
— Karissa Haugeberg, Tulane University, 2017
This post is a part of the Iowa Women's Archives' 25th anniversary celebration and exhibition: 25 Collections for 25 Years: Selections from the Iowa Women's Archives on display until December 29th at the Main Library Gallery. Gallery hours are available on the Main Library website. For more information about events, see our 25th anniversary website.