Dr. Annessa Babic, coordinator of interdisciplinary studies at the New York Institute of Technology and Dr. Tanfer Tunç of Hacettepe University in Ankara, Turkey are the most recent recipients of a research grant from the Linda and Richard Kerber Fund for Research in the Iowa Women's Archives, a grant that helps researchers travel to the Iowa Women's Archives.
Collaborators since 2008, Tunç and Babic met in graduate school at SUNY Stony Brook where each produced feminist scholarship. In 2008, the pair co-edited The Globetrotting Shopaholic: Consumer Products, Spaces, and Their Cultural Places. Since then they have continued to produce articles together and apart examining consumerism, nationalism, and Wonder Woman, among other subjects. Although the two collaborators had planned to travel to Iowa City together, the political unrest in Turkey stifled Tunç's plans at the last minute. Nevertheless, Dr. Babic had a fruitful week in the archives hunting for places where feminism and food activism collide.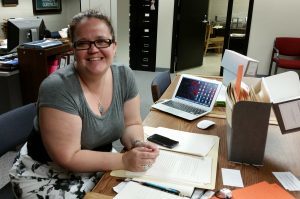 Tunç and Babic's current project will extend "common discussions concerning food waste, overabundance, and safety by connecting food activism to consumer activism and social and civil rights, particularly the environmental and women's movements." Babic believes that movements surrounding food safety and packaging are gendered due to the heavy marketing of food products to women. She and Tunç hope to explore the parallels they see between the environmental and women's movements of the late twentieth century. Although this project is in its early stages, Babic and Tunç expect that it will result in an article that will put food activism in the cultural context of the United States from 1970 – 1990.
The duo were drawn to the Iowa Women's Archives by its diverse holdings about grassroots movements as well as its collections of oral histories. Additionally, they were interested in exploring resources of the Midwest, a region less studied than the American coasts. Babic, who is also a travel writer, confessed that she had never been to Iowa before, and expects to produce work about the trip itself as well as the resources she found in the archives.
While here, Babic looked at the papers of farm activists such as Denise O'Brien, Carol Hodne, Ericka Peterson-Dana, and Janette Ryan-Busch, as well as the records of food activist organizations like the Mothers for Natural Law and the Women, Food and Agriculture Network. What was her favorite collection? With three days of research behind her, Babic said she most enjoyed reading oral histories from Voices From the Land, a collection produced as part of the Iowa Women's Archives' Rural Women's Project. It includes interviews with rural women who were politically active in the 1980s farm crisis. Babic said she found the farm women's take on that era interesting and refreshing. We look forward to finding both qualities in the future work of Tunç and Babic.