A "Miserable Little Book"
William Harvey's De Motu Cordis ("On the Motion of the Heart and Blood")

During an interview conducted a decade ago, Dr. John Martin referred to William Harvey's De Motu Cordis ("On the Motion of the Heart and Blood") as "a miserable little book…only 68 pages, printed on terrible paper with only one illustration and written in poor Latin." He went on to add, however, that most historians believe the book to be the most important single work in the history of medicine. Harvey wrote the work with great reluctance in 1628 after years of soul searching. The unassuming English physician and anatomist was afraid that his radical notion would ostracize him from his colleagues and hurt his practice. He was right on both counts but lived to see his idea gain full acceptance and his name revered.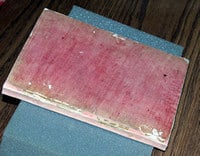 Harvey had the temerity to claim and demonstrate that blood actually traveled through the body in a circuit—that the same blood that was pumped from the heart, returned to the heart. Harvey measured the volume of blood expelled from the heart and knew that the organs were incapable of absorbing so large an amount of fluid—"Since it all flows past in so short a time, it must be made to flow in a circle." In making his measurements, Harvey not only proved his thesis but also ushered in the era of experimental physiology. Harvey knew the idea was revolutionary and, "…so strange and undreamed of, that not only do I fear danger to myself from the malice of a few, but I dread lest I have all men as enemies, so much does habit or doctrine once absorbed, driving deeply its roots, become second nature… But now the die is cast; my hope is in the love of truth and in the integrity of intelligence."
The John Martin Rare Book Room is one of a handful of U.S. libraries to own a copy of the first edition of Harvey's monumental work. Purchased only a few years before Dr. Martin's death in 1996, the fragile little book went through two years of painstaking preservation before it was placed on the shelves and made accessible to visitors to the room.
Click here for larger images.
[quoted translated passages from Exercitatio Anatomica de Motu Cordis… An English translation with annotations by Chauncey D. Leake, 3rd edition, 1949.]
For more information about the John Martin Rare Book Room please visit the Web site at http://www.lib.uiowa.edu/hardin/rbr/ or contact Ed Holtum, Assistant Director for Administrative Services and Special Collections, at 319/335-9154 or edwin-holtum@uiowa.edu.