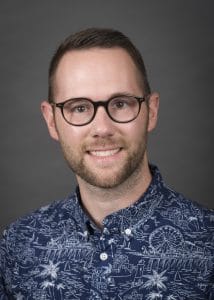 Welcome Miles Dietz-Castel, Office Coordinator for the NNLM Greater Midwest Region office.
Miles joined the GMR of National Network of Libraries of Medicine this January.  In his new role, Miles will be assisting the GMR office as it fulfills its mission to improve and provide equal access of biomedical information to health professionals and the public.
Prior to joining the NLM Greater Midwest Region Miles worked at the University of Iowa College of Public Health on various grants that supported underrepresented students in STEM PhD programs.
Miles received his B.A in Communication Studies from the University of Iowa and is currently pursuing his Master's degree part time in Strategic Communications at the University of Iowa. Miles lives in Cedar Rapids with his partner and two dogs; a corgi and a mastiff. He enjoys tennis, running with dogs, and bingeing past seasons of Survivor.