Pietro da Cortona Imgages
The Hardin Library has recently completed a project that allows a series of early 17th century anatomical images to be viewed from anywhere on the globe. Pietro da Cortona, a noted Italian painter and architect of the high baroque renaissance fashioned a superb series of 27 drawings around 1618 that were later expertly engraved by Luca Ciamberlano. The plates lay unpublished for more than a century until assembled into an atlas and printed in 1741 as Tabulae Anatomicae. The John Martin Rare Book Room at the Hardin Library for the Health Sciences owns a well-preserved copy of the work and recently, the images were scanned at high resolution by staff members of the Information Commons for placement on the World Wide Web. The images can be viewed in varying degrees of magnification so that the viewer can gain an appreciation of the close-up beauty and artistry of the original drawings. The new offering is the second of a series of images to be mounted in this fashion, the first being the magnificent color lithographs of Mascagni's Anatomia Universa.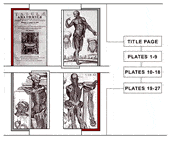 The Web site was designed and developed by Christy Stevens, an Information Commons Graduate Assistant studying Library and Information Science at the University of Iowa. Other contributors to the development of the site include Ed Holtum, Head of the John Martin Rare Book Room; Scott Fiddelke, Digital Media Project Manager; and Jim Duncan, Coordinator, Information Commons & Electronic Services.
You may view the Web site at: http://www.lib.uiowa.edu/hardin/rbr/imaging/cortona/
You may be required to download a small plug-in to view the images.