Meet Sam Watson, Outreach Specialist for the National Library of Medicine-Greater Midwest Region.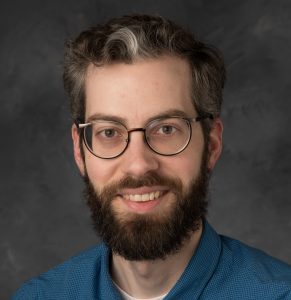 As a late comer to the library field, I'm still grooming my information professional pedigree. I bring with me an academic librarian instruction and science liaison experience from my time at Knox College and an MLIS degree from my fledgling librarian years at the University of Wisconsin-Madison.
My health information focus is the result of my inspirational medical librarian mother and my early career of pharmacy work in both retail and in-patient settings. Years of witnessing, firsthand, the overwhelming behemoth of managing personal health encouraged me to pursue a career that would inform people of their options and the resources available.
My role here at the GMR will focus on outreach to community colleges; making connections, advocating NLM resources, and empowering people to use high quality information to make informed healthcare decisions both professionally and personally.
If ever I'm not working, you will most likely find me futzing over old fountain pens in a vain and fruitless attempt to improve my handwriting.