I hope you did and are doing well with finals and enjoyed the hot coffee, cocoa and cider served at the Engineering Library to help you keep awake during these grueling sessions.  In between exams I saw some of you putting together the LEGO blocks and it looked like you were having fun!  The LEGO blocks were for you from Kari Kozak head of the Library,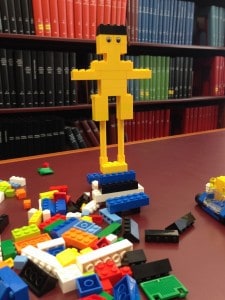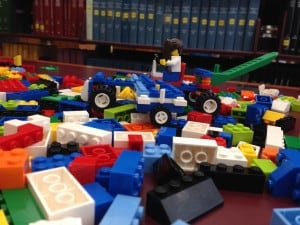 here are some of your LEGO creations.
Did you enjoy the LEGO exhibit in our exhibit case while taking a break from exams?
Now for some facts about holidays which I took from Wikipedia;
For constitutional reasons, the United States does not have national holidays in the sense that most other nations do, i.e. days on which all businesses are closed by law and employees have a day off.[1] Pursuant to the Tenth Amendment, theU.S. federal government only has constitutional jurisdiction to establish holidays for itself, for certain federally chartered and regulated businesses (such as federal banks), and for the District of Columbia; and pursuant to the First Amendment, neither federal, state nor local government can require any business (other than those mentioned) or individual to observe any holiday. Otherwise, constitutional authority to create public holidays is a power reserved to the states. Most states also allow local jurisdictions (cities, villages, etc.) to establish their own local holidays.
As of 2012, there are eleven federal holidays in the United States, ten annual holidays and one quadrennial holiday (Inauguration Day).[2] Pursuant to the Uniform Monday Holiday Act of 1968 (effective 1971), official holidays are observed on a Monday, except for New Year's Day, Independence Day, Veterans Day, Thanksgiving, and Christmas.[ 
If you're interested in more information about holidays? you will find it at this site http://en.wikipedia.org/wiki/Holidays_of_the_United_States.  But if you'd rather not be too serious about anything being on the verge of finishing exams here something more fun to read:  http://www.baltimoresun.com/features/bal-artslife-holiday-trivia,0,5910159.triviaquiz#ixzz2nw86F4Nh