The following is written by Olson Graduate Research Assistant, Rachel Miller-Haughton
Ayako Mori Costantino was a Japanese-American woman whose work with the communities she lived in and belonged to left a lasting impact. Her papers were donated to the Iowa Women's Archives (IWA) and include photos, letters, books, audio tapes, and memorabilia from her life.
Born in Sacramento, California in 1924, Ayako and her family were moved, as the US government mandated, to Tule Lake, a War Relocation Authority center. The Mori family were just a few of the over 110,000 Japanese Americans, over half of whom (66,000) were US citizens, forced into prison camps during the start of U.S. involvement in World War II. They were rounded up and imprisoned under the Roosevelt administration, allowed only to bring what they could carry and losing irreplaceable person property as well as land and other assets.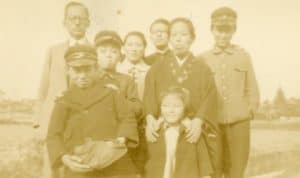 Ayako attended the Tri-State High School in Tule Lake. When students were allowed to leave the camps to attend college, in 1943, she moved to Chicago. In 1945 she began working for the US Civil Service in St. Louis, Missouri; after the end of World War II she moved to Japan for a stenography job. There she met an American military servicemember, Anthony "Tony" Costantino, and married him in 1948. The Costantinos had two children: a son, Mori, and a daughter, Toni.
In 1956, the family moved to Iowa City so Tony Costantino could teach at the University of Iowa. It was here that Ayako Mori Costantino became involved in civil rights, women's rights, and the rights of marginalized people. She was instrumental in creating the Iowa City Human Rights Ordinance in 1963, working as an organizer and hosting events. She was chair of the Human Relations Commission, an advocate in affirmative action and employment and housing discrimination cases. She worked with the League of Women Voters and helped to pass a 1964 fair housing law to prevent racial discrimination in housing.
Her papers include letters to notable and influential people, and show that Mori Costantino was not afraid to lend her powerful voice to a myriad causes. One cause close to her experience was redress for survivors and families of the Japanese American internment camps. Her letter to Iowa Senator Tom Harkin from March 1989 discusses the need for reparations, saying "a government not required to pay for its errors may be prone to repeat its errors." She goes on to acknowledge she wrote a personal account of the impact internment had on each of her family members to President George H. Bush, asking him to increase the funds promised. Many such accounts exist in her papers collected at IWA, not only her story but a larger image of the fight for redress—that is, an official apology and financial reparations for the invaluable losses suffered by Americans of Japanese descent.
Until 2020, when she passed away, Mori Costantino was an activist involved in many causes. She chaired the Johnson County (Iowa) League of Women Voters. She also served with organizations including the Iowa Civil Rights Commission, Women's Political Caucus, the Education Equality Advisory Committee, and the Civil Liberties Union. She was elected to represent Iowa at the National Women's Conference in 1977 and campaigned for many Democrats, be they local representatives in Johnson County or presidential candidates.
Ayako "A. Mori" Costantino was a woman who survived internment as a teen, then turned around and fought to right the injustices done to her and her community. She worked tirelessly as an advocate, a defender, and a civil and human rights champion. Her collection at IWA paints a picture of a person who deeply valued family, was a formidable writer, and committed her life to causes she believed in. She not only worked for Asian Americans but for marginalized and underserved people everywhere. It is well worth a trip to visit her papers and artifacts, to get to know this remarkable woman and understand her legacy.