"From the Classroom" is a series that features some of the great work and research from students who visit our collections. Below is a blog by Alexandra Larson from Dr. Jennifer Burek Pierce's class "History of Readers and Reading" (SLIS:5600:0001)
A Look "Behind the Green Door"
By Alexandra Larson
"I always thought Penny Parker was a better Nancy Drew than Nancy is."

-Mildred A. Wirt Benson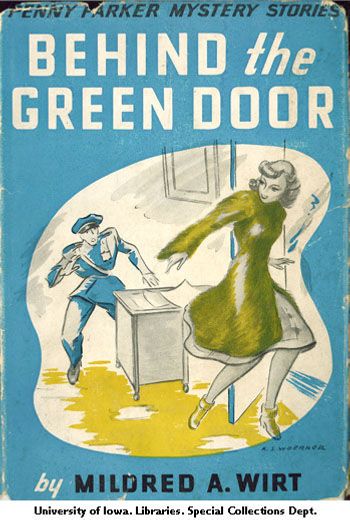 From the Iowa Authors Collection's Mildred Wirt Benson collection, readers are drawn to the novel Behind the Green Door by its striking blue and olive-green cover illustrated by K.S. Woerner. We are introduced to our main character, Penny, as a blur as she appears running from a police officer in clear mischief. This first impression immediately gives us the sense that Penny is willing to break (or bend) the rules to crack the case. The readers are left wanting to open the pages of the book to see how Penny got in this predicament.
A popular series of a teenage sleuth who also works as a reporter for her father's newspaper, "The Riverview Star," Behind the Green Door was the fourth book out of seventeen published in the Penny Parker series in 1940 under publication of Cupples & Leon Company.
A synopsis of the book from Goodreads provides some insight into the exciting story that made it a popular series:
Penny visits a ski resort and stumbles upon several mysteries. Unknown enemies are trying to force the resort to close, and during her investigations, Penny discovers a mysterious green door in the resort that leads to a room that can only be entered by invitation. Meanwhile, a new acquaintance offers to sell Penny a fur coat inexpensively. Penny investigates, solving all of the mysteries, scoops a rival reporter, and is rewarded with a new car.
Penny Parker's creator, Mildred Wirt Benson, was born in Ladora, Iowa in 1905. Later she attended and graduated from the University of Iowa in 1925 with a degree in English. In 1927, she became the first person to earn a master's in journalism from the University of Iowa. Benson lived a life full of accomplishments, and we are lucky to have her papers in the Iowa Women's Archives. You can learn more about her life and accomplishments through IWA's website "The Mysterious Mildred Benson."
Benson went on to write multiple popular series under various pseudonyms, including writing several works for the famous Nancy Drew series under the name Carolyn Keene. Only a few number of titles would be published under her own name, including the Penny Parker series. Mildred Benson brought the Penny Parker Mystery Stories to public adoration during the years 1939-1947.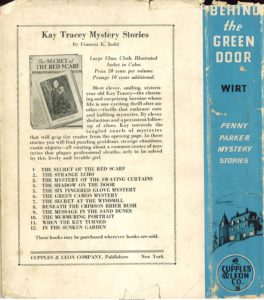 Collecting of novels written by Mildred Wirt Benson has become a popular activity for many fans of her several series. This has become especially true as the real identity of Carolyn Keene and other pennames of Mildred Benson have become known since their original publication. There is definitely expense and value in book collecting with first edition copies of her novels as they become prized collector's items. Their dust covers alone can be worth more than the book itself.
For many, however, it's not monetary but personal reasoning behind the collecting. Loving memories of Nancy Drew fans from ages 8 to 81 can be read online. One online contributor writes, "I owe a lifetime interest in reading to Carolyn Keene because her Nancy inspired me, as a young girl to open my mind to the love of reading." Another declares, "that's one real benefit of the enduring Nancy Drew. She brings generations together." These memories summarize why collecting is so important to individuals on a personal level.
For Further Reading:
"Collecting Nancy Drew." Collecting Nancy Drew | Nancy Drew and Friends, University of Maryland, 2005, www.lib.umd.edu/nancy/nancy-drews-legacy/collecting-nancy-drew.
"Behind the Green Door by Mildred A. Wirt." Goodreads, Goodreads, www.goodreads.com/book/show/11236056-behind-the-green-door.
Martin, Douglas. "Mildred Benson Is Dead at 96; Wrote 23 Nancy Drew Books." The New York Times, The New York Times, 30 May 2002, www.nytimes.com/2002/05/30/books/mildred-benson-is-dead-at-96-wrote-23-nancy-drew-books.html.
Oliver, Myrna. "Mildred Benson, 96; Author Gave Life to Nancy Drew." Los Angeles Times, Los Angeles Times, 30 May 2002, www.latimes.com/archives/la-xpm-2002-may-30-me-benson30-story.html.
"The Tale of the Ghost Writer – Iowa Women's Archives." University Libraries: The University of Iowa www.lib.uiowa.edu/iwa/mildred/biography/.