The following is written by Olson Graduate Research Assistant, Rachel Miller-Haughton
The Civilian Conservation Corps was a program established in 1933 under Franklin Delano Roosevelt to provide jobs for "young, unemployed men during the Great Depression." As a program, it existed for 9 years and employed about 3 million men across the country, ages 17 to 28, who were US citizens. The men enrolled served 6-month terms, and could serve up to two years. They were required to send a large chunk of the $30 a month they made home to their families.
During the Great Depression, these men were fed, clothed, and housed. They made the equivalent of $500 a month in today's dollars and worked physically demanding jobs. The money made a huge difference to these men and their families (they were usually unmarried). At the beginning of the CCC program, the program was about creating model manual laborers; by the end of 1942, men enrolled were seen as future soldiers and many enlisted in WWII after finishing their time in the Corps.
The men in the CCC "made valuable contributions to forest management, flood control, conservation projects, and the development of state and national parks, forests, and historic sites. In return, the men received the benefits of education and training, a small paycheck, and the dignity of honest work." One such man was Harry L. Hogancamp, whose scrapbook is held in Special Collections & Archives.
A member of CCC Company 3728 in Bancroft, Iowa, Hogancamp was an Iowa native with a camera who documented his bunkmates, peers and officers, and daily work. His certificate of proficiency in "Stump Blasting" is found at the beginning of his scrapbook, along with a cigarette purchase card, both from 1940. What follows are images of trucks of explosives, his friends at work, and portraits of men about camp. Harry's photos offer us some insight into the realities of President Roosevelt's favorite New Deal program, according to Jean Edward Smith in her 2007 biography FDR.
Other sources of information about the historic CCC in Special Collections are the Frederick Elliott Biermann Papers (Msc0128) and the Quenton C. Nolte Collection of WWI and CCC Materials (MsC0996). The program has a strong history in Iowa.
Of course, the realities of the CCC program were far from perfect. It was segregated, and Black men were not allowed into supervisory positions except as educational directors in the all-Black camps; the majority of all CCC camps were led by white men. There was also a separate division for federally recognized tribes: the "Indian Emergency Conservation Work Division" (IECW), also known as CCC-ID ("Indian Division") [Gower].
President Joe Biden has reinstated the CCC, but with a different aim, and certainly one that is inclusive. His Civilian Climate Corps borrows the letters of FDR's CCC and spins it on its head: it is an initiative "to put a new generation of Americans to work conserving and restoring public lands and waters, increasing reforestation, increasing carbon sequestration in the agricultural sector, protecting biodiversity, improving access to recreation, and addressing the changing climate." The establishment of this new Corps was part of a brief from January 27, and shows that the new president, like FDR, wants Americans to have opportunities on improving the environment. Although the setup of Biden's CCC is likely to be different, it is impossible to deny the parallels between the New Deal and the current administration.
Like its predecessor, this new CCC uses government programs for jobs and training for "public projects aimed at preparing for, mitigating or forestalling some of the worst environmental impacts of global warming." This project is, so far, not up and running. But it is worth it to look back on the example set by the 1930s CCC and see what to emulate and what to change. With examples from the archives like the scrapbook of Harry Hogancamp, we can see how the values of hard work and concern for the environment carry on and can help to build a better future for America.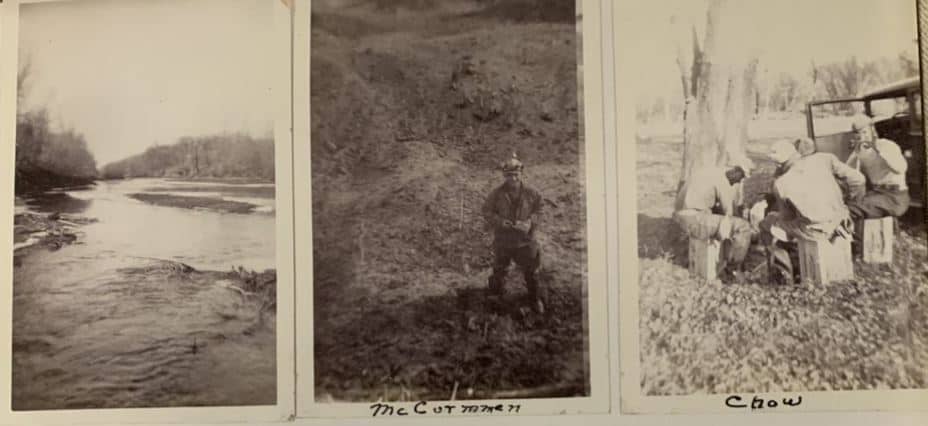 Further Reading:
Gower, Calvin W. (1972). "The CCC Indian Division: Aid for Depressed Americans, 1933–1942". Minnesota History. 3–13.
Gower, Calvin W. (1976). "The Struggle of Blacks for Leadership Positions in the Civilian Conservation Corps: 1933-1942." The Journal of African American History, 61(2), pp. 123-135.
Heller, C. E. (2010) 'The U.S. Army, the Civilian Conservation Corps, and Leadership for World War II, 1933—1942." Armed Forces & Society, 36(3), pp. 439–453. doi: 10.1177/0095327X09333944.