by Tim Shipe
The International Dada Archive is pleased to announce the publication of issue number 21 of Dada/Surrealism: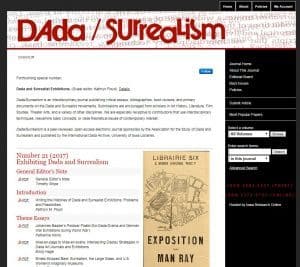 The theme of the issue is Exhibiting Dada and Surrealism,  guest edited by Professor Kathryn Floyd of Auburn University, a former student library assistant at Iowa. In addition to the theme section, we have articles on Dada and music, on Breton, Mayakovsky, and photography, and on the surrealist film La Perle. Finally, in our first venture into multimedia, we present a video of Andrei Codrescu's lecture-performance at the University of Iowa Libraries in connection with the exhibition Documenting Dada / Disseminating Dada.
Dada/Surrealism is the peer-reviewed open-access journal of the Association for the Study of Dada and Surrealism. It is published by the International Dada Archive, Special Collections, University of Iowa Libraries. The general editor is Tim Shipe.