The following is written by student worker Jack Menzies
Thor Rinden was an artist born in Marshalltown, Iowa in 1937 and studied at the University of Iowa before attaining his Master of Arts at Hunter College, New York, NY. Living with his wife, Jane,the couple spent decades renovating their home in Brooklyn, which garnered substantial media attention and brought focus to his artwork.
Combining elements of geometry and architecture with the organic influence of his Iowa roots, Thor Rinden created little worlds within his pieces. Employing differences in texture, as can be seen in his "wovens," interlocking strips of canvas and other materials to create textured designs, and "slab paintings," in which smaller canvas paintings are placed within a larger canvas frame, his work invites viewers to not only view the art but interact with it and unfold its meanings. Check out examples of woven and slab paintings on the Thor Rinden website.
The combination of mediums with which he worked perfectly marries his Iowa origins and appreciation for New York abstraction. Farmland scenes and quiltlike patterns juxtapose with the clean lines and sharp angles of a modern skyline. To better understand the artist, I took the opportunity to talk with Thor and Jane Rinden's close friends Samuel Scheer and Rosetta Cohen, who helped shed more light on Rinden's work. Scheer described Rinden's art as "lucidly geometrical," a study in how things are exquisitely and imperfectly joined in the world. His work is deliberately imperfect and showcases his humorous side, thus showcasing humanity alongside mechanical precision.
Though Rinden loved his homes in Iowa and New York, he was an avid world traveler, and his travels hugely impacted his work. He was especially influenced by his experiences in Asia and his introduction to Buddhist culture. Though not quite mandalas, his woven work showcases some similarity with the intricate sand paintings created by Buddhist monks. Creating art was a spiritual experience for Rinden, and that spirituality can be seen within the inter-animated aspects of his paintings and wovens. He appreciated both agrarian and industrial development and his work showcased his dual appreciation. Much of his work can be plotted as grids, like neat Iowa cornfields or the network of New York streets, perfectly exemplifying his desire to portray the interconnectedness of all things and places.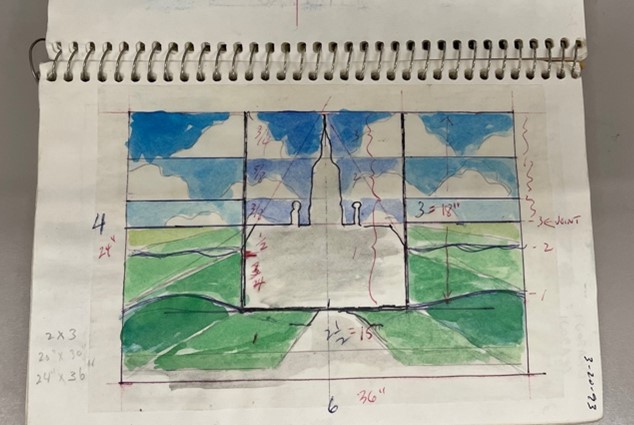 Some of Rinden's work has come back to Iowa and is housed at the Stanley Museum of Art. His collection here at Special Collections & Archives contains 25 sketchbooks that include his blueprints for paintings, many sketches and life studies, plans for his renovations, and poetry. A common factor with all of these is his connection to Iowa and its landscapes. His collection will resonate with anyone who feels a connection to their homes and those who are moving into a new phase in their lives. His collection speaks to the integral and involuntary connection we have to our origins and invites people to carry their roots with them even as they move out into the world. It asks the question, "What will you bring with you as you enter the world?"
Also included in the collection is a book of his poems titled Subway Seizures: Poems. The poems are accompanied by sketches, and they showcase the humor and left-handedness of Rinden's character. His poetry can be seen as a dialogue with his wife Jane, who was a poet herself and an English teacher. Subway Seizures is seen as a "language of love" in which he embraces her love of language. As his friends describe, when coupled with the originality and innovative artwork, his poems reveal satirical elements within his paintings and open new ways of approaching his work.
While Rinden never created art with the specific intent of showcasing it at museums and exhibits, several of his paintings were showcased during his life, and over 20 pieces have been placed in museums since his death in 2009. Rinden was an artist who created out of need to express himself, not desire for acclaim or recognition. However, his work deserves to be shared and perfectly captures the ideas of home and forward progression.