The following is written by Public Services Librarian, Lindsay Moen
Today marks the 155th birthday of renowned children's book author, Beatrix Potter. Potter was best known as the author and illustrator of cherished tales such as The Tale of Peter Rabbit, The Tale of Jemima Puddle-Duck, and The Tailor of Gloucester. While Peter Rabbit might be the primary character people recognize today, Potter has many additional works credited to her name, which emphasizes her literary accomplishments.
At University of Iowa Libraries Special Collections & Archives, we are fortunate enough to hold a few treasures from the Beatrix Potter catalog. First and foremost is our copy of Potter's privately printed The Tale of Peter Rabbit, which she published independently in 1901 after being turned down by at least six publishers. You can read more about our copy here.
As we commemorate Potter's 155th birthday, our department has another reason to celebrate as we have welcomed some wonderful new Potter additions to our holdings. These new materials come from the personal collection of Kara Sewall, a longtime member of the Beatrix Potter Society and expert on Potter collectibles and merchandise. Longtime friend and fellow Beatrix Potter Society member, Kathy Cole, reflects that Kara "devoted her own time and resources to sharing her love of Beatrix Potter with others. She did this well before the days of the internet by typing and posting a 'Potter-gram' to update collectors of new items that became available." (1)
Sewall passed away in February 2020, leaving behind a legacy in the Beatrix Potter world. We at Special Collections & Archives are very fortunate to hold a selection of materials from her personal collection. We know these materials will be appreciated by Peter Rabbit fans and researchers for years to come.
Sewall's donation includes a lovely selection of new materials, but some highlights include copies of Sister Anne, and first editions of The Pie and the Patty Pan and Ginger and Pickles.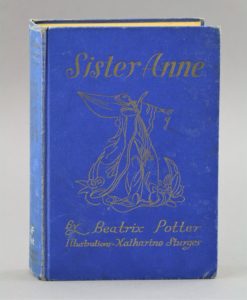 Sister Anne is Beatrix Potter's version of the story of Bluebeard and is one of her lesser-known tales. This is primarily due to the book being illustrated by Katharine Sturges, rather than Potter herself. At the time of publication, Potter was 66 and her eyesight was too poor to complete the illustrations. This book was only published in the United States by David McKay Company in1932 and was the last of Beatrix Potter's stories to be published in her lifetime. (2)
The first editions of The Pie and the Patty Pan and Ginger and Pickles are also wonderful additions to Iowa's collection. These are prime examples of the variety involved in collecting Potter's works. Both titles went through various publication changes. For example, for The Pie and the Patty Pan, the early printings have plain, mottled lavender endpapers, which were shortly replaced by an endpaper design featuring the pie and the patty-pan. The cover picture was then changed from a cat in a small circle, to one of Ribby, the cat sitting by the fire in a large circle. Our newly acquired copy is a first edition, and therefore features the cat in the portrait circle. (3)
We hope fans of Beatrix Potter and children's books alike will enjoy these new additions to our collection.
Special Collections & Archives would like to thank Kathy Cole for facilitating this donation.
Resources
"Obituaries". The Beatrix Potter Society Journal and Newsletter No. 152. The Beatrix Potter Society, May 2020, pp. 33.
2. Linder, Leslie. A History of the Writings of Beatrix Potter. Frederick Warne & Company, 1971, pp. 324-326.
3. Linder, Leslie. A History of the Writings of Beatrix Potter. Frederick Warne & Company, 1971, pp. 425.
Additional Resources
Click here to see the digitized version of our privately printed Tale of Peter Rabbit
Learn more about Iowa's privately printed Tale of Peter Rabbit in the Summer Seminar Series YouTube video: Into the Vault: Iowa's Privately Printed Peter Rabbit