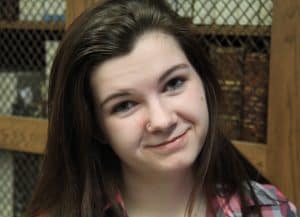 I was hired at Special Collections to shelve things. Books, boxes and everything in-between. As time went on, I began putting away newly acquired books as well as gathering the material for classroom use.
There are so many books and material passing through my hands each shift I complete, and each book or item is unique. Some test the true definition of what a book should be, or what our image of a book is. So, in no particular order, here are my ten favorite books I have found in the stacks:
Winnie ille Pu by A.A. Milne (xPZ5.M65 W512)
This is a Latin version of A.A. Milne's Winnie the Pooh. This silly old bear is still a favorite of mine, and I love that it is so popular that it even comes in a dead language. The cover also depicts Pooh and Piglet wearing Roman battle gear.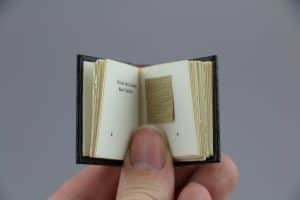 Paper Samples 1966 by Glen Dawson (Smith TS1220.D27 1966)
This is one of our many miniature books, but it is one of my favorites because it is a mini-book with little paper samples in it. That's it.
The Perfect Martini by Emily Martin (Szathmary N7433.4.M364 P47 1998)
I really enjoy this artist book because it makes you consider what a book to be. This is literally a martini glass with an olive in the bottom. The only words are on the box it is encased in, saying: "Place ice in a shaker, fill as needed with gin. Observe a moment of silence for the vermouth. Strain into a martini glass. Add olives and serve. Instructions may be repeated."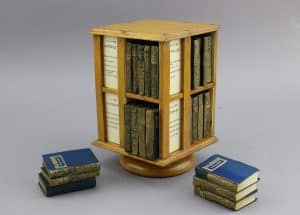 Complete Works by William Shakespeare (Smith PR2754.E5 1904 v 1-40)
Shakespeare is one of my favorite authors to study, so it's only fitting to put him in my list. This book I listed is actually all of his plays, but they're mini!!! And they come with their own rotating bookshelf! I love everything about this set, including the floral end-paper.
Global Perspectives by Christian Science Publishing Society (Maps G3201.A67 1968 .C5)
This one is from our Maps Collection. We have so many different maps, but this one stuck out to me because it's the United States seen from the perspective of Canada.
God Created the Sea and Painted it Blue So We'd Feel Good on it by Michelle Ray (xN7433.4.R39 G63 2013)
This was one of the first books I came across while working here, and it has stuck with me during my two years here. It isn't the book that is the wow factor, but the box that holds the book. It is simply beautiful. The detail included on it and the way you can feel the water moving makes it a special piece.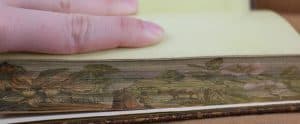 Autumn; or: The Causes, Appearances, and Effects of the Seasonal Decay and Decomposition of Nature by Robert Mudie (QH81.M93 1837), Spring, or: The Causes, Appearances, and Effects of the Seasonal Renovations of Nature in All Climates by Robert Mudie (QH81.M933 1837), Summer, or: The Causes, Appearances, and Effects of the Grand Nuptials of Nature in All Its Departments by Robert Murdie (QH81.M934 1837) and Winter, or: The Causes, Appearances, and Effects of the Great Seasonal Repost of Nature by Robert Murdie (QH81.M935 1837)
I had to group all four of these together because it is just too hard to pick one. If you do pick one, then you pick your favorite season. I don't like these books for the words or the cover, but for the image that is hidden on the spine. When you fold the pages of the book a certain way, an image is presented to you. That image is a season; four books for four seasons.
El Taco De Ojo = Easy on the Eye by Edward H. Hutchins (Szathmary N7433.4.H88 T33 2000)
I couldn't tell you exactly why I like this book so much, or why it made it to the list instead of other books. I mean, it's literally a book in the shape of a taco. And who doesn't love tacos?
Plotted: a Literary Atlas by Andrew DeGraff (Maps PN56.M265 D44 2015)
Now, this is an interesting piece because it also comes from our Maps Collection, but it isn't a map of a place you can visit physically. This book contains different maps of famous literary tales, including the short story "The Lottery" and The Odyssey.
Curtis's Botanical Magazine by John Sims (xQK1.C9 any volume)
These are simply beautiful. They have illustrations of different flowers in it and its gorgeous. It makes me wish I had the talent to do something like that. And all of the volumes are created that way.