The University of Iowa Libraries Special Collections is looking for the next Olson Graduate Research Assistant. If you are a graduate student, or an incoming graduate student, find out more here.
However, you might be asking what does being the Olson Graduate Research Assistant actually mean? Well, who better to explain that then those with the experience. Hannah Hacker was Special Collections' Olson GA from 2016-2018 and will be graduating with her Masters in Library and Information Science this winter. Micaela Terronez has been our Olson GA since 2017, and she will be graduating May 2019 with a Masters in Library and Information Science. Below they explain what it means to be an Olson GA and the experiences and opportunities that come with the job.
From Hannah Hacker: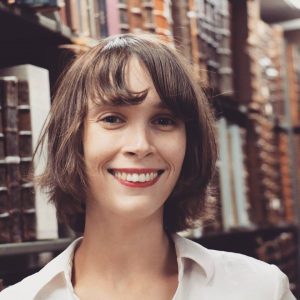 Being an Olson is like being at a buffet, but with rare books and archives. You get a little taste of everything in special collections librarianship. If an aspect of the department gets you really excited, you can dive right in and have a big helping.
For me, the areas that I dove into were instruction and reference. My passion for librarianship stems from the enthusiasm of a student or patron who discovers something for the first time or is eager about researching a particular topic, and that happens the most when I'm in a classroom or at the front desk. Talking with people one-on-one and listening to what gets them excited is one of the main reasons why I've enjoyed my time as an Olson as much as I have. It's those small moments with people that get me fired up about being a full-fledged librarian some day.
From Micaela Terronez: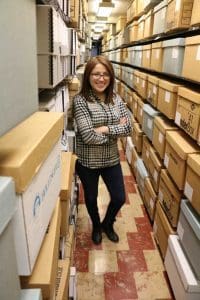 This past year as the Olson Graduate Research Assistant has been a wonderful opportunity for me to gain practical knowledge and experience in the work of special collections and archives. For example, I have learned about the day-to-day operations and responsibilities of a large university special collections — an experience that nicely complements my MLS coursework and previous professional work. Additionally, I cannot express how thankful I am for working alongside such incredible and supportive coworkers. Through this fellowship, I've been lucky to gain several mentors that have taken the time to listen, discuss, and collaborate with me as a new staff member.
Thus far, my favorite experiences in this position have been in the Special Collections classroom where I've had the opportunity to instruct courses utilizing library materials — a responsibility that I was completely terrified to do originally! But because of the support and training I received as the Olson, I'm more comfortable than ever to conduct classes and experience some great moments with students. One of these moments was with a group of 20 Latinx high school students from Upward Bound, a program that brings first-generation students from the state to experience life as a college student for six weeks. The students gravitated toward stories of migration and underrepresented individuals that could be seen in several collections from the University Archives and the Iowa Women Archives. By far, this was one of my favorite classes because I saw firsthand how archival materials can resonate with students and the effect it can potentially have on their self-identity.
For more information about the Olson Graduate Research Assistant position or application, please contact Lindsay Moen. The deadline is October 29th, 2018 at 5:00pm.