The fifth episode of Historically Yours is here and this time we're joined by University Archivist David McCartney.
For this episode, David McCartney tells a poignant tale of letter writing past and present and then reads us a letter from James Thurber from his time at the New Yorker in 1935.
Know anything more about this letter? Able to track down the article they are referencing?
Type in the comments, email us colleen-theisen@uiowa.edu or write to us:
Colleen Theisen
Special Collections
100 Main Library
Iowa City, IA 52242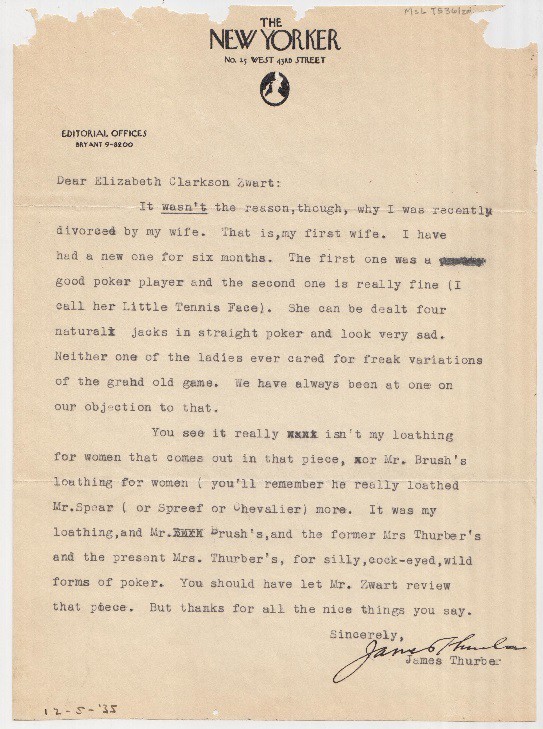 Dear Elizabeth Clarkson Zwart:
It wasn't the reason, though, why I was recently divorced by my wife. That is, my first wife. I have had a new one for six months. The first one was a good poker player and the second one is really fine (I call her Little Tennis Face). She can be dealt four natural jacks in straight poker and look very sad. Neither one of the ladies ever cared for freak variations of the grand old game. We have always been one on our objection to that.
You see it really isn't my loathing for women that comes out in that piece, or Mr. Brush's loathing for women (you'll remember he really loathes Mr. Spear (or Spreef or Chevalier) more. It was my loathing and Mr. Brush's, and the former Mrs Thurber's and the present Mrs. Thurber's, for silly, cock-eyed, wild forms of poker. You should have let Mr. Zwart review that piece. But thanks for all the nice things you say.
Sincerely,
James Thurber
Credits:
Host: Colleen Theisen
Guest: David McCartney
Letter: Letter to Elizabeth Clarkson Zwart. : New York, NY., 1935 Dec. 5. Thurber, James 1894-1961. Elizabeth Clarkson Zwart 1904-1983, recipient.
Theme Music – "Handwritten Letters" by Will Riordan
Editing: Colleen Theisen