FOURTH Annual Shakespeare Livestream
Tune in live Wednesday April 26, 11:00am-1:00pm CST [Central time in the USA is GMT -5:00]
We're back! Celebrate Shakespeare's birthday week by joining us – live on the internet! – for our FOURTH annual Shakespeare's Death Anniversary & Birthday Week Commemoration Livestream, featuring University of Iowa Shakespeare professor Adam Hooks, alongside Colleen Theisen, Special Collections Outreach & Engagement Librarian.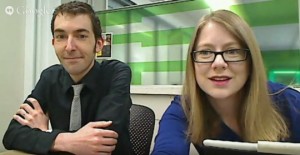 Now is your chance to Ask a Shakespeare Scholar anything about Shakespeare, about being a Shakespeare scholar, and maybe even about your least favorite Shakespeare plays. We will also have a selection of historic, unusual, beautiful, and forged editions of Shakespeare's works from Special Collections which we'll be showing and telling stories about LIVE!
Use the hashtag #shxlive to ask a question, or type one here in the comments, or tune in live to ask a question. The event will be added to the UISpecColl YouTube channel as a video after the completion of the event. (See past livestreams).
Tune in here: https://www.youtube.com/watch?v=SHEgdueFNHM