Statements from the American Library Association and the Society of American Archivists confirming a commitment to diversity and inclusion:
American Library Association:
"As an association representing these libraries, librarians and library workers, ALA believes that the struggle against racism, prejudice, stereotyping, and discrimination is central to our mission. We will continue to support efforts to abolish intolerance and cultural invisibility, stand up for all the members of the communities we serve, and promote understanding and inclusion through our work." – Julie Todaro, ALA President. Read the Full Statement
Society of American Archivists:
"SAA strongly rejects any acts of hate, discrimination, bias, or intimidation against anyone on the basis of ability, race, ethnicity, national origin, gender, sexual orientation, or religion." Read the full statement.
New Artist Books Browsing Collection: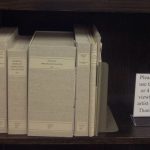 We've started a new project to simulate browsing the artists' books in the stacks. Every week, John Fifield will be refreshing the shelf with the
next ten books in the call number range, moving alphabetically by artist. Come visit us in the reading room this week to check out the first set.
General News of Interest:
Staff Publications: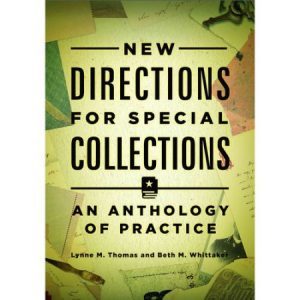 Instruction Librarian Amy Chen and Outreach & Engagement Librarian Colleen Theisen have written book chapters in "New Directions for Special Collections" which will be available Nov 30, 2016 from Libraries Unlimited. See the book here.
Chapter 4: Developing K–12 Outreach Methods for Special Collections Centers
Amy Chen, Lisa Crane, Melanie Meyers, Charlotte Priddle, and Abby Saunders
Chapter 21: Towards a Culture of Social Media in Special Collections
Colleen Theisen
"Spanning the converging worlds of academic and special libraries, rare book collections, archives, museums, and other cultural heritage institutions, this book will be useful to newcomers and seasoned professionals alike. The essays address the recurring themes of managing and welcoming change and the impact of digital technologies throughout the book, whether regarding new approaches to outreach and instruction, the acquisition and curation of non-traditional collections, new structures for discovery and access in a digital world, or the nature of special collections work now."
Upcoming Events:
Historic Foodies November 30th Meeting
Historic Foodies is a community group supported by Special Collections and the Old Capitol Museum dedicated to testing an trying historic recipes. Stop by for their November meeting, taste test the results! 6PM-7:30PM, Coralville Old Town Hall.
https://www.facebook.com/events/565738743634361/
Arthur Bonfield, "The Why, How, What, and Result of 60 Years of Rare Book Collecting"
In December the Iowa Bibliophiles' guest speaker will be Arthur Bonfield who will speak about his 60 years of rare book collecting.
Arthur Bonfield is a Professor at the Iowa Law School and has been collecting books published between 1490 and 1800 for 60 years. He has collected about 1,000 books printed during that period and focuses his collecting on voyages, travels, and geography; English and European history; encyclopedias and dictionaries of the arts and sciences; political philosophy; and herbals.
Wednesday, December 14, 2016 at 7PM in the Special Collections Reading Room, 3rd Floor Main Library
Details on the UI Events Calendar: https://goo.gl/XJpGWK
From Our Social Media:
---
Donate to the University Libraries' Special Collections Fund
Want to stay connected?  Follow us on social media: