Important Announcements:
Special Collections and the Iowa Women's Archives' Reading Rooms will be closed May 30th for the Memorial Day holiday.
Newsfeed: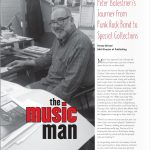 Curator of Science Fiction and Popular Culture, Peter Balestrieri is featured in the Cover Story of the May/June issue of Archival Outlook from the Society of American Archivists.
"Archivists are artists," Balestrieri remarks, reflecting on his punk rock gig with the Violent Femmes and how a life with music and libraries intertwined eventually led him to Special Collections.
Read the whole feature here on pages 8-9 and 26.
Event Recap:
The UI Libraries hosted Nicholas Meyer, who made an appearance as a guest speaker in conjunction with the Main Library Gallery exhibition 50 Years of Star Trek.
Meyer, who is an alumnus of the University of Iowa, directed the movie Star Trek II: The Wrath of Khan (1982) and contributed to the shooting script for that film (uncredited). He wrote portions of the screenplay for Star Trek IV: The Voyage Home (1986) and went on to direct Star Trek VI: The Undiscovered Country (1991), for which he also co-wrote the screenplay.
Storify of Tweets from the event.
Video from his talk is available here:
New Staxpeditions:
English Department Shakespeare Professor Adam Hooks joined us for an episode of Staxpeditions. Can you guess where his favorite call number range might lead?
New Acquisition:
Helen Hiebert's Interluceo arrived recently, at the request of several UICB faculty members. Interluceo is a collaborative work, blending Helen's paper and watermarks with papercut illustrations by Beatrice Coron and a binding by Claudia Cohen. It's a beautiful example of how the talents of multiple artists can come together to tell a fascinating story using the form of the book itself. Photos and video really don't do it justice! – Margaret Gamm
https://vine.co/v/iQnrbbDzgTB
---
Donate to the University Libraries' Special Collections Fund
Want to stay connected? Follow us on social media: