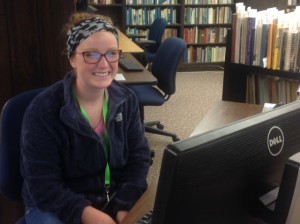 University of Iowa Libraries' staff this year donated to a new Libraries' Student Employee Scholarship fund to support competitive scholarships open to students working in the University of Iowa library system. Special Collections' own Stacy Garrard was awarded one of the two scholarships.
Stacy is a freshman majoring in Speech and Hearing Sciences and works in Special Collections where she loves looking at the historical pieces of art, literature, and letters as well as assisting patrons with general inquiries and more in-depth research.
Stacy has been invaluable to us in Special Collections. Stop by the Reading Room on the third floor to join us in congratulating Stacy!