Newsfeed:
Upcoming Events:
Thursday, 3/24:  Jeannette Gabriel, We Did So Much Beyond the Home: Jewish Women and Community Life in Iowa (4 p.m., Iowa Women's Archives). http://events.uiowa.edu/event/we_did_so_much_beyond_the_home_jewish_women_and_community_life_in_iowa
Saturday, 3/26: Latin Paleography Workshop, Instructors: Sarah Bond, Yvonne Seale, Heather Wacha, Room 1140 Main Library. Register: https://uiowa.qualtrics.com/SE/?SID=SV_9XZkqhyaFTrY4Wp
Wednesday, 3/30: Felicia Rice, Doc/Undoc (lecture performance), followed by a public conversation with Guillermo Gόmez-Pẽna (5 p.m., Special Collections Reading Room). http://book.grad.uiowa.edu/events/march-2016/gomez-pena-and-rice
Wednesday, 4/13: Iowa Bibliophiles, Jane Murphy and Mark Brookfield, 36 year partners in Murphy-Brookfield Books, will talk about the enormous changes brought on by Internet bookselling in the last 20+ years. (Refreshments 6:30PM, Talk 7PM, Special Collections Reading Room).
Upcoming Deadlines:
Staff Updates: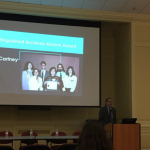 University Archivist David McCartney traveled this week to accept the 2016 Distinguished Archives Alumni award from the iSchool at the University of Maryland. Join us in congratulating David!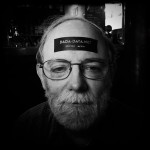 Tim Shipe has just returned from his mostly Dada-related European travels. He started in Amsterdam, where he acquired books by Dutch writers who had participated in the International Writing Program. Proceeding via Cologne, where he met with curators at two museums devoted to German dadaists, he then flew to Bucharest, where he was an invited keynote speaker at an international conference on Dada held at the Romanian Academy. He ended his travels in Zurich, where the Dada centennial celebrations were in full swing. After meeting with numerous librarians, curators, and scholars, his Swiss sojourn culminated in another keynote address, this time at the Cabaret Voltaire, in the very room where the Dada movement was born in 1916. The picture shows Tim in the Cabaret just after completing his lecture.
This Week's Best from Social Media:
Ethan DeGross testing the 3D model on the interactive screen which is part of the "Explorer's Legacy" exhibition in the Main Library gallery, open through April 8th.
https://vine.co/v/iHgU5BiJQbP
 A new episode in the If Books Could Talk video series debuted this week on YouTube. If Books Could Talk is a collaboration between the University of Iowa Libraries and History Corps, a digital public history initiative from the University of Iowa Department of History.
New Acquisition:
Interstices & Intersections or, An Autodidact Comprehends a Cube, by Russell Maret. N7433.4.M37 I57 2014 
While these photos were fun to take (Geometry! Yay!), Russell Maret's 2014 work Interstices & Intersections must be seen in person to understand the way the structure of the book impacts the text. You can also see several books of Euclid's Elements of Geometry, the inspiration behind Maret's work, in Special Collections. – Margaret Gamm
Events & Workshops Recap: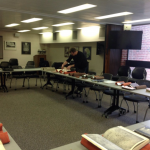 3/4/2016  Bruce Whiteman, Head Librarian Emeritus of the William Andrews Clark Memorial Library at UCLA, gave a workshop for the Center for the Book last Friday on forgeries and drew extensively from Special Collections to demonstrate the history of forgeries, fakes, pirated copies, hoaxes, false imprints, and counterfeits. Special Collections is deeply grateful for his generous sharing of his expertise making it possible to better identify and describe our collections.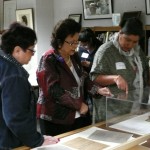 3/5/2016 The Iowa Women's Archives kicked off Women's History Month by celebrating the contributions of Iowa Latinas to our history and the formation of the Latina/o Studies minor on campus. Mujeres Latinas: Every Woman Has a Story brought 62 participants to the Library for a two-hour workshop Saturday morning.   I especially enjoyed the participatory aspect of the event – from the Latina/o Studies announcement to the terrific contributions of the students and heartfelt memories from members of the public about their own family history and the artifacts/documents they brought to share. After the event, many participants headed out of the library to other venues to "continue the discussion." – Janet Weaver, Assistant Curator, Iowa Women's Archives
3/9/2016 The Iowa Bibliophiles welcomed Doug Russell, senior judge of the Iowa District Court, who addressed the Bibliophiles on books by and about famous bibliophiles, their book collections, and the books they have written about collecting.
Join our email list to receive updates on future events: http://eepurl.com/beW3-T
---
Want to stay connected?  Follow us on social media: