News: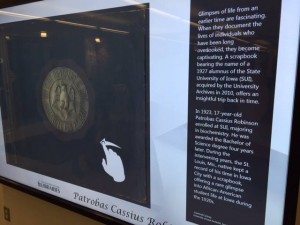 Upcoming Events:
Saturday, 3/05: Mujeres Latinas: Every Woman Has a Story  (11:00 a.m. -1:00 p.m. , Iowa Women's Archives, 3rd floor, Main Library) Refreshments will be served!  RSVP: lib-women@uiowa.edu Questions?

319-335-5068.

Wednesday, 3/09: Iowa Bibliophiles: Douglas S. Russell speaking about famous book collectors and collecting. He is a Senior Judge of the Iowa District Court and will address the Bibliophiles on books by and about famous bibliophiles, their book collections and the books they have written about collecting. (7pm Special Collections Reading Room). http://afterclass.uiowa.edu/events/event/iowa_bibliophiles_douglas_s_russell_book_collecting
Wednesday, 3/30: Felicia Rice, "Doc/Undoc" (lecture performance), followed by a public conversation with Guillermo Gόmez-Pẽna (5 p.m., Special Collections Reading Room). http://book.grad.uiowa.edu/events/march-2016/gomez-pena-and-rice
New Acquisition:
Mentioned in our 2015 end of the year summary,  Orbitá is now cataloged and ready to be used. Cuban book artists Chucho Romeu, Roberto Morales, & Ernesto Sargenton created this artists' book through a cooperative effort. Despite encountering serious difficulties in the course of their partnership—including a studio building collapse in 2011—they finished this book in 2013 under the collective name Proyecto Locatarsis.

N7433.4.S166 O73 2013 
Instruction This Week:
Eight UI Class Sessions
One visiting Class from Cornell College
This Week's Best Social Media Post:
https://www.instagram.com/p/BB3j2SGxx2p/
 Event Recap:
2/18 Lunch with the Chefs, "Destination India." Colleen Theisen, John Fifield, and Ellen Wrede created a pop up exhibition of cookbooks and miniature books that were featured at the IMU in collaboration with University Catering's "Destination India" lunch.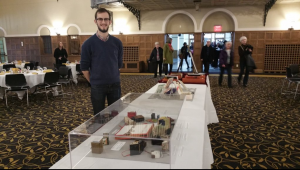 ---
Want to stay connected?  Follow us on social media: