From the Web and Social Media
Preservation Projects Librarian, Vitalina Nova, wrote a blog post about the League of United Latino American Citizens Council 10, both their past records and their current projects for the Iowa Women's Archives blog.
Image on the left from LULAC Council 10 Records, IWA0733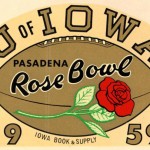 2016 Rose Bowl a chance to make new memories: UI archivist recalls Iowa's five previous visits to Pasadena.  This month's Old Gold column by University Archivist David McCartney was posted this week.
This 1959 Rose Bowl decal was sold by Iowa Book and Supply and donated to the university by 1976 alumnus Vernon Lustick, of Cedar Rapids, Iowa.
Notes from the Special Collections Classroom
This week's news from Amy Chen, Instruction Librarian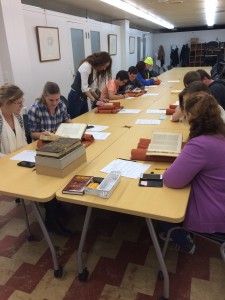 Counting up some totals at the end of the semester, Special Collections (not including the Iowa Women's Archives) taught 119 class sessions total in the Fall 2015 Semester:
4 in August
34 in September
39 in October
28 in November
14 in December
New Acquisitions
Arrival Notifications from Margaret Gamm, 
Acquisitions & Collections Management Librarian 
The Descent of Mount Gadam is a new acquisition for our Charlotte Smith miniature book collection. Amos Paul Kennedy published the book in 1993 under the imprint of his Jubilee Press, which was later renamed the Jubalee Press. The text is an adaptation of a folktale of the Mensa Bet-Abrehe people of northern Ethiopia.