Librarians in the Wild:
ICON Science Fiction Convention October 16-18th, 2015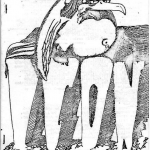 The ICON Science Fiction convention began 40 years ago, born from a passionate group of fans that met in a science fiction class taught here at the University of Iowa by the Hugo and Nebula award winning author Joe Haldeman, and the same group who formed a U.I. student group called S.F.L.I.S. (Science Fiction League of Iowa Students). This weekend marks the convention's 40th Anniversary. (See the program booklet for the first ICON convention from 1975: Here).
The 40th Anniversary convention is taking place this weekend at the Doubletree in downtown Cedar Rapids.  (There is still time to register). A partner exhibition is being held at the Cedar Rapids Museum of Art including works created by each Artist Guest of Honor that has been a featured guest in the history of the convention.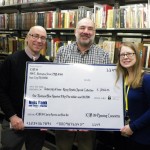 At the opening ceremonies Friday night, University of Iowa Librarians Peter Balestrieri and Colleen Theisen will be officially presented with a check for $1955.00 that was raised by the community in an auction last year to be used to support the digitization of the 1930s-1950s fanzines in the James L. "Rusty" Hevelin Science Fiction Collection. Rusty was a beloved member of the ICON community, and the community came together both donating items to be auctioned and bidding on those items in a heartwarming display of support for the University of Iowa's role in carrying on the care and legacy of Rusty and his collection.
You will be able to catch the University of Iowa librarians throughout the weekend at the convention, both at a table in the dealer's room where you can pick up our zine detailing the current status of the Hevelin Fanzine Digitization Project, and also at various panels throughout the weekend about Science Fiction and zine history, about using a University Library for research as a writer, and as co-conspirators for a project to make a mimeographed fanzine over the course of the weekend.
Read more about the Fanzine Digitization Project: Slate article or Official FAQ.
Read more about the donation: Here
Event Recap:
Iowa Bibliophiles October Meeting
Wednesday, October 14th, John Fifield, one of our current Olson Graduate Assistants, presented about his work this summer at the Convent of the Recoleta in Arequipa, Peru, where he assisted with identifying and cataloging early printed books in the convent's collection.  In the photo on the screen (click thumbnail to enlarge) you can see images of the exquisite handcrafted display cases in the convent library that were built by Bill Voss, of the University of Iowa conservation lab, on an unrelated trip in years past. Thanks to everyone who attended, especially the many new faces this month! The lively Q&A that followed the talk had to be cut short due to time constraints, so any unanswered follow up questions can be directed to john-fifield@uiowa.edu.
An example from UI Special Collections of a typical 17th-century Peruvian book will be in the case just inside the doors of Special Collections for the rest of October if you would like to stop by and learn about printing in Peru during the Spanish Colonial period.
From the Web and Social Media:
1. This month's Old Gold column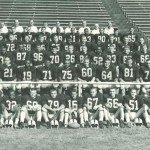 Remembering a time when postseason play was limited: 1960 Hawkeye football squad loses once, misses out on Rose Bowl
University Archivist David McCartney's monthly Old Gold column tasks him with being a sports writer this month.
Photo: The 1960 Hawkeye football team. Image courtesy of University of Iowa Yearbooks collection, Department of Special Collections and University Archives, UI Libraries.
2. Weekly Dada related posts on Instagram – #dadagrams
Tim Shipe, curator of the International Dada Archives, has been posting about Dada on Instagram once a week on Thursdays. The #dadagram series will continue as a lead up to the 100th Anniversary celebration in 2017.  Fans of Dada should definitely keep tabs on this series on Instagram.
https://instagram.com/p/8BpdI_xx5A/?taken-by=uispeccoll
3. Milestone Reached – 20,000 likes & reblogs
Sometimes it is nice to step back and recognize milestones. This animated GIF of re-sewing a text block on single raised cords upstairs in the UI Conservation Lab is now one of the most popular social media post we've ever made. With comments like "OMG, I've wondered how to do that for the longest time!", it's clear that even a momentary snippet can bring to light some of the otherwise invisible work that happens behind the scenes in the library.
New Acquisitions:

1. Georg von Logau. Hoc volumine continentur…poëtæ tres egregii. Augsburg 1534
Latin classes return to Special Collections every semester to survey the material history of the transmission of Latin authors through time. We hope to see this little book used in many Latin classes over the years. Featuring work by Gattius , Nemesianus, and Calpurnius, it focuses on hunting, fishing, sporting dogs, and country life, and should be a very approachable text for even brief visits.
2. Peter and Donna Thomas The Renaissance Pleasure Faire Broadsides, 1974-2011.
A retrospective collection of ten typographic broadsides that Peter and Donna Thomas made when working at the Renaissance Pleasure Faire. The broadsides were all letterpress printed on Peter's handmade paper. They were illustrated with linoleum cuts and watercolor rubrication by Donna. An introductory broadside and a book they published in 1988 with a photographic history of the Faire are included with the broadsides.
https://vine.co/v/eQraX7BnZwD
Want to stay connected?  Follow us on social media: