Staff Changes
Our beloved Department Manager Kathy Hodson has retired after more than 16 years of dedicated service to the UI Libraries. Friday, October 2, 2015 was her last day. Please join us in wishing her the best for all of her new pursuits.
New Acquisitions
Brochard. Musæum selectum. Paris 1729
One question we are asked frequently is "where do you get your stuff?" Books like this help answer that question from a historical perspective. This catalog of Michel Brochard's collection is a slice of book history, containing not only Brochard's classification system of his library, but also annotated prices and purchasers of each book dating from when the collection was sold after Brochard's death.
From the Web and Social Media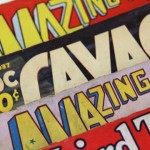 The Science Fiction website io9 featured photos of pulp magazine covers from the Hevelin Collection Tumblr.  All photos are from Laura Hampton. You can see the article here.
Want to stay connected?  Follow us on social media: