Summer 2015 New Staff and Staff Changes: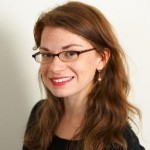 Amy Hildreth Chen is the new Special Collections Librarian in charge of the Instruction Program. Previously, she was a 2013-2015 Council on Library and Information Resources (CLIR) Postdoctoral Fellow in the Division of Special Collections at the University of Alabama, where she oversaw instruction, exhibitions, and social media. In 2013, she received her Ph.D. in English from Emory University with a dissertation on the acquisition of literary collections. She also is an alumna of Iowa, as she graduated from UI in 2006 with a BA in Political Science and honors in English.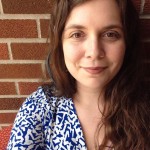 Laura Hampton recently joined the department as a Digital Project Librarian working on digitizing 1930s-1950s fanzines from the James L. "Rusty" Hevelin Science Fiction Collection. In May 2015, she received her MLIS from the UI School of Library and Information Science and Center for the Book. During her time at Iowa, she worked as a graduate assistant in Special Collections, and as a Reference Assistant at the Hardin Library of Health Sciences. Previously, she earned her undergraduate degree from New College of Florida in Sarasota, Florida where she graduated with a BA in literature.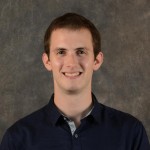 John Fifield is the new 2015-2017 Robert A. and Ruth Bywater Olson Graduate Assistant.  He is a student in the School of Library and Information Science and the Center for the Book and he holds a Bachelor of Music in Horn Performance from Oklahoma State University. John is currently conducting bibliographic research at a convent's library at the Convento de la Recoleta in Arequipa, Peru and will officially join the department in mid-August.  His research interests include the Spanish colonial book trade as well as food culture.
Recently on the Web and Social Media:
1. If Books Could Talk
The third video in the series If Books Could Talk is now live.  If Books Could Talk is a partnership between UI Libraries' Special Collections and Music Library with History Corps, a public digital history project from the UI Department of History.  The series investigates what can be learned by looking closely at medieval manuscripts.  Subscribe to the UI Special Collections' Staxpeditions channel on YouTube with any GMail or Google ID to get notifications whenever a new video is posted.  Historian Heather Wacha posts a complementary essay for each episode which can be found on the History Corps website.
2. Library Journal Article, "University of Iowa Libraries Begin to Digitize Decades of Fanzines."
Library Journal recently had a feature article about the University of Iowa Libraries' initiative to digitize 1930s-1950s science fiction fanzines in the James L. "Rusty" Hevelin Science Fiction Collection.  After the digitization, the scans will be open to a small group of fans to log in and help crowdsource metadata in an unprecedented effort to harvest the knowledge of the fan community and make available information about these fan-made publications. Read it here.
3.  Daily Iowan Coverage
Last week The Daily Iowan covered two events that Special Collections partnered to create, an event introducing teens to 1960s-1980s comic books as a partnership with the Iowa City Public Library, and ongoing efforts to recreate historic recipes from the Historic Foodies, a community group that is a partnership with the Old Capitol Museum. Read about the comic book event.  Read about Historic Foodies.
4. Vine Channel
This summer the Special Collections team has been testing the social media site Vine which is a site dedicated to very short videos that are less than six seconds long. You can see in the section below a short looping video of our librarian Margaret Gamm opening a new acquisition.  The videos may be seen on our Vine channel,  or shared to our Twitter  or Tumblr.
New Acquisitions:
1. Fluxus maps
"Hi Red Center," 1965, was edited by Shigeko Kubota, designed and produced by George Maciunas, and maps the activities of the "Hi Red Center" avant-garde art collective conceptually onto the Tokyo landscape where the activities took place.  The back of the map has documentary photographs of events and happenings mapped on the other side that took place between 1963-1964.
The second map, "Fluxus Island in Decollage Ocean" is from Nam June Paik from 1963.
The two items join our extensive Fluxus holdings much of which can be found in the Fluxus West Collection, MsC 763.
https://vine.co/v/eX0dDFUZrTu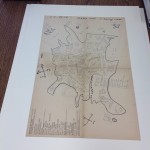 2. 1499 Codex with a Unique Binding
This book from 1499 is a manual for confessors that still has its first binding, a "wallet" style binding.  Meant to be used and carried around, these everyday bindings do not survive in great numbers.
The transition from the manuscript tradition to the earliest printed books is one of our most frequent topics that we teach in the classroom, across the disciplines on campus, for visiting classes from other colleges and universities, and for community groups.
Citation: Baptista de (Trovamala). Summa casuum conscientiae quae Baptistiniana nuncupaor (second version, known as Rosella casuum). Add. Sixtus IV: Bulla "Etsi dominici gregis" 30 December 1479. Rubricae iuris civili et canonici. Venice: Paganinus de Paganinis, 21 December 1499.
Congratulations: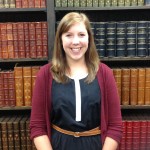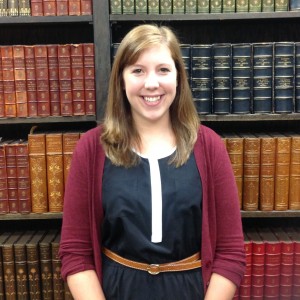 Kelly Grogg, Special Collections' Olson Graduate Assistant was awarded the Rovelstad Scholarship in International Librarianship, which will fully fund her travel, housing, and registration to attend the World Library and Information Congress hosted by the International Federation of Library Associations and Institutions (IFLA) taking place in Cape Town, South Africa.  This scholarship is intended to encourage students who have an interest in international library work and enable them to participate in IFLA early in their careers.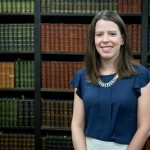 Margaret Gamm, Special Collections Acquisitions and Collections Management Librarian was honored as a "Bright Young Librarian" by Fine Books and Collections Magazine.  See the article here. 
Want to stay connected?  Follow us on social media: