Following up from our earlier announcement about the donation and digitization of the earliest known Simon Estes recording, the clip is now streaming!
Read about the original donation and the March 17th concert where Simon Estes was presented with a copy of the recording.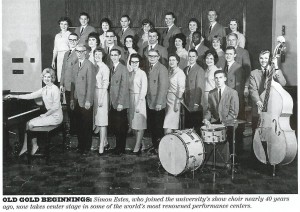 Soloist: Simon Estes , Corrine Semler
Performance by the Old Gold Singers
Hi-Tran Recording Co., Cedar Rapids, IA in 1959 or 1960
I Got Plenty o'Nuttin' from the musical Porgy and Bess. Music by George Gershwin, lyrics by DuBose Heyward and Ira Gershwin.
via I Got Plenty o' Nuttin'.  <– Click this link to hear the recording!