by Shawn R. Conley –  student worker in Special Collections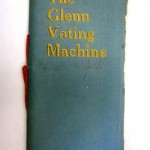 With the election year in full swing and Election Day looming, most of us will be making our way to that legendary voting booth with the fancy curtains to cast our vote and take part in yet another one of our civic duties. Most of all, and assuredly most rewarding, is having the liberty to have taken part in a Presidential election that was established in our country nearly two-and-a-half centuries ago. Delusions of Americana aside, many of us are just glad to get that sought-after "I Voted" sticker one we've finished.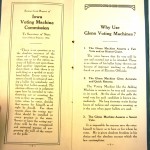 As millions of men and women flood the voting booths across the nation, the arduous task remains: how does one count these millions of votes? The task of an accurate and speedy vote count is something our forefathers have been tackling since our country was founded. During the 19th century, a flurry of new ideas and machines arose to combat this problem. One of these companies attempting to deliver "…a fair vote and an honest count" according to their brochure from over a century ago, was the Glenn Voting Machine Company of Cedar Rapids, Iowa.
While sorting and cataloguing my way through a collection of papers and letters from E.J.C. Bealer, a very prominent businessman and stone quarry magnate from Cedar Rapids, I came across a large number of stock certificates from as far back as 1898 from long defunct companies like the Tykoon Mining Company and the American Gold Production Company. Tucked between these certificates was a little blue book with gold letters titled, "The Glenn Voting Machine." Mr. Bealer had quite an investment in this company through the many stock certificates I found.
"Why use Glenn Voting Machines?" asks the third page of the brochure. During this time in American history, the entire logistical process of voting was changing directions. Through the evidence exhibited by this brochure, one can see how appealing casting a vote by machine would be. All one must do according to page nine is to "place the pointers on the names of the candidates of your choice — walk out." Not only would the mechanical voting machine make voting much simpler, but it might even make voting fun or appealing which is something political scientists try to figure out to this day.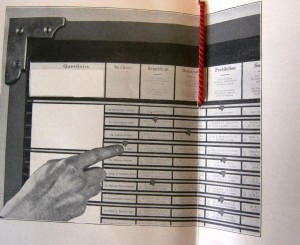 Taking a look at the illustrations of the machine, one can make out the presidential candidates of the 1904 election: Theodore Roosevelt and Alton B. Parker. The simplicity of the machine is hinted throughout the brochure, ensuring that every gentleman's vote is precise. Sorry ladies, your time hasn't arrived just yet…give it a few more years. Towards the end of the brochure are many newspaper articles and clippings, exhibiting how the Glenn Voting Machine promises "Fast Returns!" and "desirability" of a mechanical voting machine as compared to old-fashioned paper ballots.
So when you finally do make your way to the voting booth, pull those fancy curtains shut, and cast your vote for President of the United States, remember that it was through the inventions of companies like the Glenn Voting Machine Company of Cedar Rapids, Iowa that allow us to ever so conveniently cast our votes on LED screens and receive "Fast Returns!"