We are commemorating the 70th anniversary of the U.S. entry into World War Two by highlighting some items in our collections relating to this event.
Nile C. Kinnick, Jr. was a University of Iowa student in 1939. The war began in Europe the same fall season when Kinnick and the UI "Iron Men" once again put Iowa on the nation's sports map with their football victories. By the end of November, the team stood at 6-1-1, and Kinnick had won most major football awards in the country. Kinnick traveled to New York City, where on December 6, 1939 he accepted the Heisman Memorial Trophy Award at the Downtown Athletic Club.
Already before his acceptance speech, Kinnick had earned the high praise of sports writers and journalists across the country, some of who had called him "The Cornbelt Comet." Yet even as he was achieving unprecedented fame at such a young age, Kinnick was aware of the terrible conflict unfolding in Europe, and the challenge it posed to Americans. In his brief acceptance speech, he devoted the last 3 sentences to taking a position on World War Two.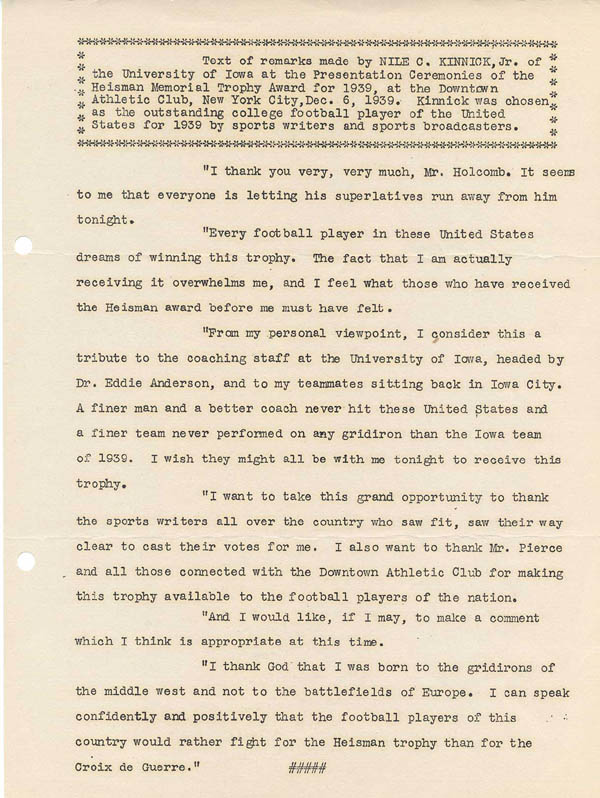 Kinnick's thoughtful words show an appreciation of football as a physical tournament, peaceful conflict resolution through a contact sport. In preferring the Heisman to the famous French war decoration, he echoed an independent-minded version of U.S. isolationism, and an appreciation of the values of his American society.
Kinnick graduated from the University of Iowa in 1940 with a BA in Commerce, and turned down some NFL offers to go to law school. As the global conflict unfolded, Kinnick's view of U.S. involvement in the war also changed. In 1941 he enlisted in the Navy Air Corps Reserve. He was called to active duty just three days after the bombing of Pearl Harbor – on December 10, 1941. Nile Clarke Kinnick, Jr. died on June 2, 1943, after his plane developed mechanical difficulties and was ditched in the Gulf of Paria.
The Papers of Nile C. Kinnick, Jr. are one of the most treasured collections of The University of Iowa Special Collections. Please see the online description of their contents here:
http://www.lib.uiowa.edu/spec-coll/MSC/ToMsc150/MsC112/MsC112.htm