Welcome to our rotating DVD display, here we will present a themed selection of titles for you to browse. If you would like to borrow a DVD, just click the link below the title and sign in with your Hawk ID and password to make a request. Thanks for browsing!
LGBTQ+ movies for Pride Month
Portrait of a Lady on Fire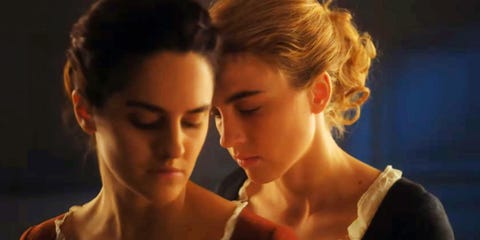 From Casablanca to Titanic, the epic, star-crossed romantic drama has been a Hollywood staple for as long as Hollywood has been in existence. In Céline Sciamma's breathtaking 2019 film, Portrait of a Lady on Fire, the genre meets its match in Héloïse, an aristocratic bride-to-be in an arranged marriage, and Marianne, an artist commissioned to paint Héloïse's wedding portrait. Over the course of their time together, what starts as an antagonistic mutual fascination transforms into a love affair for the ages.
https://search.lib.uiowa.edu/permalink/f/7nh330/01IOWA_ALMA21788502790002771
Paris Is Burning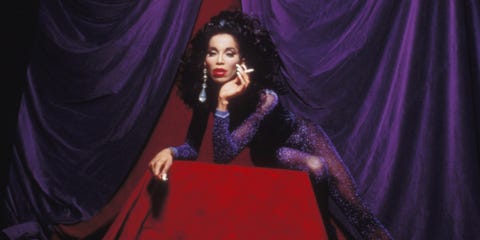 Before Pose and RuPaul's Drag Race, there was Paris Is Burning. Shot during the late 1980s, Jennie Livingston's documentary is the definitive record of golden-age New York City drag ball culture, featuring interviews with house founders such as Willi Ninja, Angie Xtravaganza, Dorian Corey, and other fixtures of the ballroom scene. To this day, the film remains an enduring record of what it was like to be Black, Latinx, or queer in New York City during the height of the AIDS crisis.
https://search.lib.uiowa.edu/permalink/f/7nh330/01IOWA_ALMA21728987980002771
The Watermelon Woman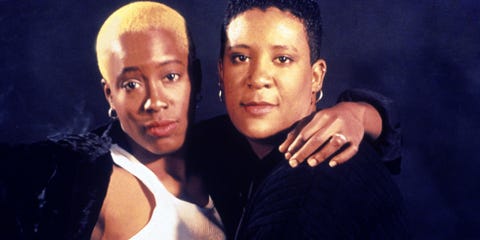 The first feature film directed by an out Black lesbian, The Watermelon Woman remains a landmark title in the history of queer cinema. Director Cheryl Dunye plays Cheryl, a Black lesbian filmmaker who decides to make a documentary about a Black actress from Hollywood's Golden Age who is known only as the Watermelon Woman.
https://search.lib.uiowa.edu/permalink/f/7nh330/01IOWA_ALMA21438659150002771
Call Me by Your Name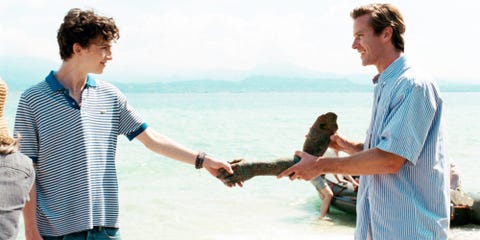 What list of queer classics would be complete without Call Me by Your Name? Italian director Luca Guadagnino's lush, sensuous adaptation of the André Aciman novel follows 17-year-old Elio as he falls in love with Oliver, Elio's father's 24-year-old graduate student assistant, in 1980s northern Italy. The romantic drama features dreamy original compositions from Sufjan Stevens and a notable cameo by an overripe peach.
https://search.lib.uiowa.edu/permalink/f/7nh330/01IOWA_ALMA21621392320002771
Blue Is the Warmest Color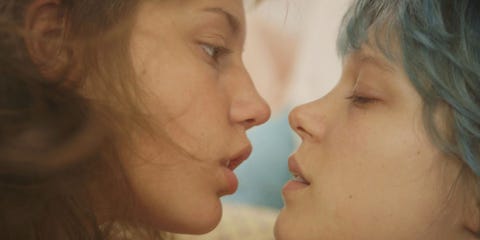 Abdellatif Kechiche's 2013 queer coming-of-age drama has come under fire many times: for being a lesbian film directed by a straight man, for Kechiche's reportedly abusive behavior as a director, for its inclusion of a largely gratuitous—and extremely explicit—lesbian sex scene between the two leads. Nevertheless, Blue Is the Warmest Color, which follows its protagonist, Adele, over the course of her first serious relationship with a woman, remains a landmark depiction of sexuality and first love.
https://search.lib.uiowa.edu/permalink/f/7nh330/01IOWA_ALMA21378972140002771
The Handmaiden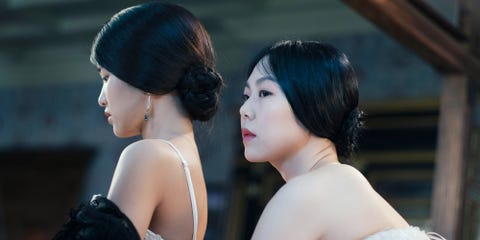 Though Oldboy director Park Chan-wook's adaptation of Sarah Waters's lesbian novel Fingersmith transposes the action from Victorian-era Britain to Japanese-occupied Korea, The Handmaiden has established itself as the definitive film version of its source material. A psychological thriller about an heiress, a con man planning to steal her fortune, and the pickpocket hired by the con man to become the heiress's maid, The Handmaiden is a Russian nesting doll of a film in which nothing is quite as it seems.
https://search.lib.uiowa.edu/permalink/f/7nh330/01IOWA_ALMA21670571320002771
A Fantastic Woman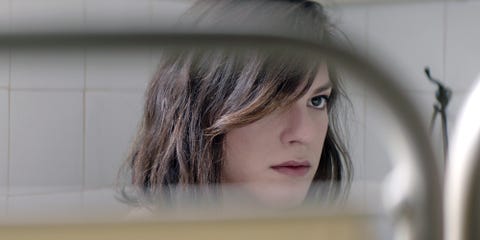 When transgender nightclub singer Marina's older boyfriend, Orlando, unexpectedly dies, she faces an uphill battle to have her role in Orlando's life recognized by his ex-wife and kids. Featuring a tour-de-force performance from Daniela Vega as Marina, the film won the 2018 Oscar for Best Foreign Language Film, and then went on to play an important role in accelerating the Chilean trans rights movement.
https://search.lib.uiowa.edu/permalink/f/7nh330/01IOWA_ALMA21630863000002771
But I'm a Cheerleader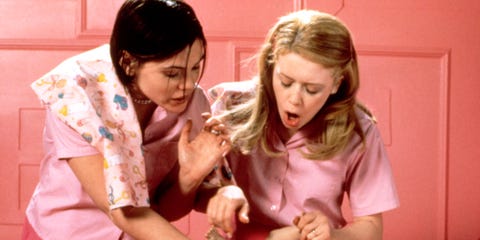 Camp is typically considered the province of gay men and drag queens, but the genre's roots in the lesbian community run just as deep. Nowhere is this on greater display than in Jamie Babbit's But I'm a Cheerleader, the movie that launched Natasha Lyonne's and Clea DuVall's careers, and gave us the vision that is RuPaul Charles playing an "ex-gay" conversion therapy counselor in baby-blue booty shorts. In this queer classic, Lyonne plays a cheerleader whose conservative parents suspect she is a lesbian. They ship her off to conversion therapy, where she falls for DuVall's enigmatic outsider.
https://search.lib.uiowa.edu/permalink/f/7nh330/01IOWA_ALMA21465621440002771
My Own Private Idaho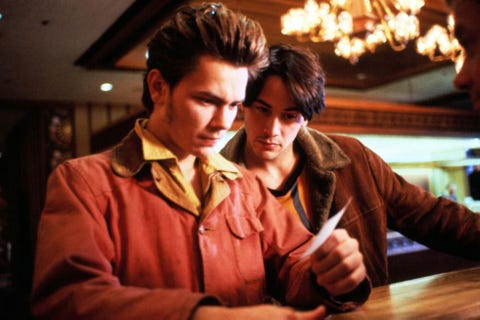 My Own Private Idaho stands as one of Gus Van Sant's most conceptual films: it has an unconventional narrative structure, not to mention a central character who suffers from narcolepsy, which lends additional surrealism to the film's disjointed architecture. But River Phoenix and Keanu Reeves anchor the film as Mike and Scott, two rent boys bonded by their estrangement from society. For a film with sex at its center, My Own Private Idaho is less concerned with sexuality than with love and comfort—something made especially clear in its famous campfire scene. It's a masterclass in acting—a radical statement in a film already full of them.
https://search.lib.uiowa.edu/permalink/f/7nh330/01IOWA_ALMA21477554380002771
The Adventures of Priscilla, Queen of the Desert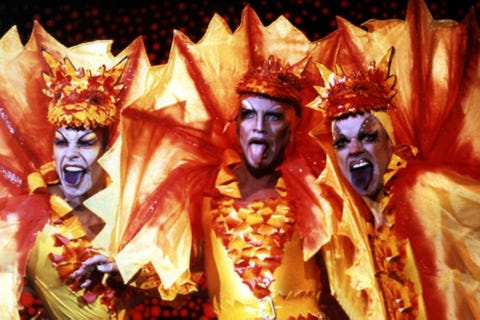 In a post-RuPaul's Drag Race world, it's easy to forget how subversive Stephan Elliot's film was for its time. But the sequined gaudiness and over-the-top production of The Adventures of Priscilla represented something of a watershed moment when it first came out. This scrappy spectacular, centered on two drag queens and a transwoman journeying through Australia, not only reached cult status; it eventually opened cinema up to more positive and mainstream representations of the LGBT community.
https://search.lib.uiowa.edu/permalink/f/7nh330/01IOWA_ALMA21470640760002771
Happy Together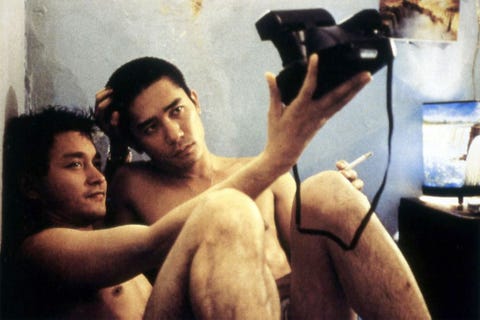 Wong Kar-wai's metaphor for Hong Kong's handover to China finds a couple adrift in Argentina, caught in the same abusive cycle that prevents either half from letting go. As much a story of codependence as it is a study of rootless and shifting identities, Happy Together both touches upon and sidelines its themes of homosexuality—groundbreaking for Chinese cinema in 1997—and focuses instead on the loss and regret of a relationship that can't be saved. It's a snapshot of a moment in time and the restlessness and melancholy that invariably afflicts youth.
https://search.lib.uiowa.edu/permalink/f/7nh330/01IOWA_ALMA21352861290002771
Boys Don't Cry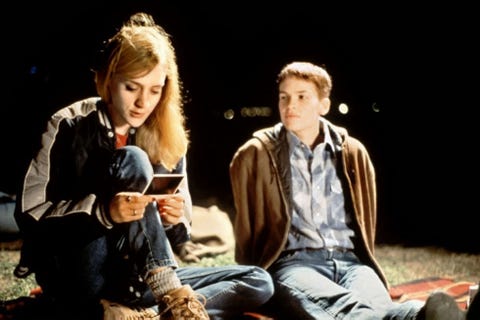 Much has been said about the casting of Hilary Swank, a cisgender actress, in this compassionate biopic of Brandon Teena, a trans man murdered in Nebraska for being himself. But the film itself helped introduce ideas of queerness and female masculinity to mainstream audiences, offering a frank portrayal of trans identity unabashed in its honesty and sensuality. And for better or worse, Boys Don't Cry's effectiveness hinges on Swank's performance, one still considered among the best of all time.
https://search.lib.uiowa.edu/permalink/f/7nh330/01IOWA_ALMA21353280510002771
Hedwig and the Angry Inch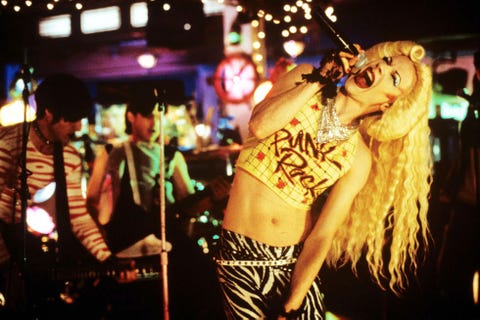 Unsurprising: a popular stage musical gets turned into a film. Surprising: a popular stage musical gets turned into a good film. Such was the case with director-writer-star John Cameron Mitchell's electric adaptation about the titular Hedwig, a would-be rock star and botched sex-change operation survivor who masks loneliness in equal parts camp and charisma. But Hedwig and the Angry Inch is more than the sum of its wigs and glam rock; it's a spiky examination of individualism, and performance as a means of owning and transcending heartbreak.
https://search.lib.uiowa.edu/permalink/f/7nh330/01IOWA_ALMA21675614530002771
Moonlight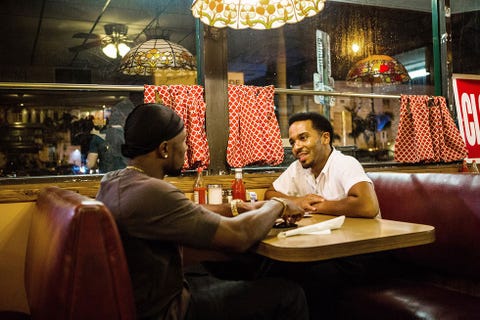 Moonlight fits no simple classification, resisting easy labels that would call it a film simply about being black, poor, or gay. It's a gentle exploration of identity, a beautiful masterwork that operates as an intimate biography as well as a social document about the America we live in. Through Chiron and three distinct acts in his upbringing, director Barry Jenkins suggests that certain facts of life—drug use, prison sentences—don't necessarily make up a life. Instead, it's the choices we make, oftentimes alone and in a sliver of nighttime light, that decide who we're meant to be.
https://search.lib.uiowa.edu/permalink/f/7nh330/01IOWA_ALMA21580331400002771