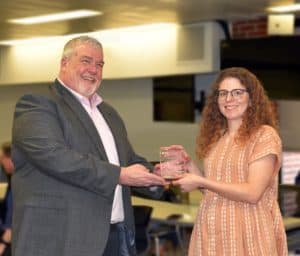 Mahrya Burnett has been named the 2022 recipient of the Arthur Benton University Librarian's Award for Excellence for her impactful contributions to the future of Open Educational Resources (OERs). As a scholarly communications librarian at the University of Iowa Libraries, Burnett champions advancing OER efforts that allow students to use textbooks and other resources without paying hundreds of dollars per semester.
Burnett, a member of the Scholarly Impact Department, accepted the award during celebration in her honor where Jack B. King University Librarian John Culshaw expressed gratitude for Burnett's contributions.  
"Through her dedication and ingenuity, Mahrya has changed the landscape of higher education for the better," says Culshaw. "By championing OERs, she has also proven herself to be a persistent advocate for equity and accessibility."
In her role, Burnett has made a far-reaching impact on the field of OERs at the UI and beyond. She continues to advocate at the state level for increased access to OERs since they can impact equity, removing unnecessary hurdles for students for whom textbook costs can be prohibitive.
To encourage and support the increased use of OERs, Burnett spearheaded the creation of OpenHawks, a grant project that helps UI faculty access and update OER resources for their courses. In the last four years, OpenHawks has funded more than 50 OER projects across a broad range of disciplines and saved students more than $1 million to date.
Ted Neal, professor of science education in the College of Education, shared he first met Burnett about five years ago, when she approached him about designing an OER for his elementary science methods course.
"She helped me with design, content, resources, legality, formatting, and everything else needed for this resource," says Neal. "This online text has grown into an invaluable piece for my course, having morphed into many new classes and sections."
The Regents OER Grant Program is also a direct result of Burnett's advocacy, and has brought together instructors from the UI with their peers at Iowa State University and the University of Northern Iowa. Her nominator, Giovanni Zimotti, director of Spanish language instruction, attested that Burnett's contributions to OERs made it possible for him to collaborate more effectively with other academics.
By pooling resources, Zimotti and his colleagues have been able to evaluate and disseminate the best and most up-to-date materials for students statewide, resulting in an OER textbook that is projected to save the UI student body an estimated $100,000 per academic year. In his nomination letter, Zimotti called Burnett "an incredible resource and inspiration for me and for all my colleagues."
Each of Burnett's letters of support emphasized her genuine enthusiasm for her work and the collegiality she brings to her professional partnerships. They also highlighted her proactive support of faculty, beginning with outreach and continuing with comprehensive guidance as they navigate new terrain.
Rachel Klevar of the Department of Spanish and Portuguese called Burnett's assistance "indispensable" to her work, and noted that Burnett's promotion of OERs "has made a tremendous impact on the future of learning."
---
The Arthur Benton University Librarian's Award for Excellence is awarded each year to a member of the UI Libraries' professional staff who has demonstrated outstanding commitment and leadership in furthering its mission to serve the university community. In addition to formal recognition, the award includes a grant of $2,000 award for professional development that will support Burnett's research projects or publications related to library services.
The late Dr. Arthur Benton, professor of psychology and neurology at the University of Iowa Hospitals and Clinics, established the endowment to make this annual award possible.