We're grateful every day for our student workers, whose contributions are foundational to the University of Iowa Libraries. They're the vital engine behind everything we do, from the front desk at the Lichtenberger Engineering Library to the stacks at the Main Library. These dedicated students make time alongside their classes to create friendly, helpful environments where library users can focus and explore.
For the 2022-2023 academic year, nine student employees have been awarded scholarships in recognition of their work in the UI Libraries. We're proud to celebrate each of them, as they share how their time in the UI Libraries has impacted their studies, their confidence, and their plans for the future.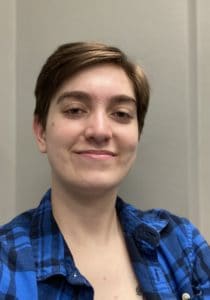 Elizabeth (Lizzi) Ayers has been awarded the Judy and Mike Greer Scholarship in Memory of Mary E. Greer. She is an English major and French minor from Iowa City, Iowa. Through a summer project maintaining 18th-century Belgian political pamphlets in Conservation & Collections Care, Ayers discovered a love of antique materials—and found the inspiration to begin her own career in librarianship.
"Working at the Libraries has helped me strengthen my professional communication skills (both verbal and written), as well as giving me a chance to pick up a variety of collections care/management-specific skills such as database navigation and caring for fragile items. [There is] variety in my work, day to day. Working in Collections Care has reassured me that libraries are anything but boring."
Cara Heuer is a third-year student from Ames, Iowa studying human physiology. She received a UI Libraries Student Employee Scholarship for her work at the Sciences Library. During her time at the library, Heuer has come to appreciate the sense of connection and shared motivation that naturally grows within the space. She loves to help "set the tone" for each person's library visit by making sure to greet them with positivity and enthusiasm.
"I have had the chance to interact with so many students and professors that I may not have otherwise met. During my time here I have been able to share so many small moments with those in the library and a part of the university community. These experiences have given me confidence in my ability to connect with others and communicate to solve problems. I hope to translate these skills into my connections with my patients and colleagues as a future healthcare provider!"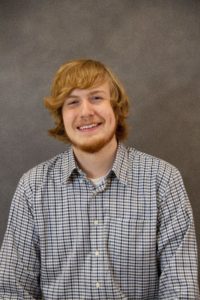 Adam Holmes is studying mechanical engineering with minors in art and mathematics. An Iowa City native, Adam was awarded a UI Libraries Student Employee Scholarship in connection with his work at the Lichtenberger Engineering Library. He was surprised to discover that library users often recognize him from the front desk when they cross paths elsewhere on campus; this made him realize that his work has an impact on each person's experience.
"In the Engineering Library alone, it's been fascinating to learn about our extensive tool collection, which has things that I hadn't even heard of before this job. I also frequently have students working on research papers that come to me looking for books on a certain topic. I love seeing their surprised reaction when I show them our catalog, which usually has dozens of books, journals, and other media on their topic."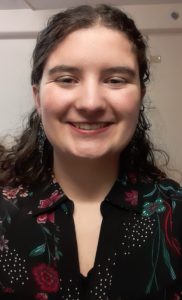 Abigail Kellis is studying English and creative writing and history, with a certificate in museum studies. She was awarded a Dale M. and Mary Gail Bentz Scholarship for her work in Circulation Services at the Main Library. The spirit of collaboration and mentorship she feels with her fellow library workers has inspired Kellis to seek a future career in libraries, museums, and archives.
"The library has helped strengthen my ability to adapt and solve many different types of problems. All jobs and careers have issues that arise that need to be solved, and being able to solve them or contact the people with more expertise who can solve them is an important skill to have."
Ana Koch was selected for a Dale M. and Mary Gail Bentz Scholarship. Koch is a nursing student with a minor in music and works at the Pomerantz Business Library, where her experience at the main desk has bolstered her skill in communicating with patrons. She believes that her time spent in a people-oriented role will strengthen her interpersonal skills in her future career as a healthcare provider.
"Working at the Business Library has helped me improve my time management and communication skills. Having a concise working schedule helps me to remain organized. An organized schedule encourages me to stay on top of my assignments while properly managing my time. I also communicate with people on a regular basis as I work. I help them with directions, solving problems, and checking out materials. Communicating with people in a respectful fashion is a huge part of nursing."
Alyssa Lemay, a statistics and mathematics major from Sussex, Wisconsin, has been awarded a UI Libraries Student Employee Scholarship in connection with her work in Circulation Services at the Main Library. Lemay says that helping library users locate resources and navigate a vast collection has made her a flexible communicator and revealed her love of customer service—traits she looks forward to using in the future.

"Working at the library, I have learned to communicate with people of all backgrounds effectively. Interacting with coworkers and patrons can sometimes be interesting or difficult because of these backgrounds! Learning to navigate these obstacles will for sure be helpful in my future career path. Part of being a statistician is working with groups of people, all of which have different educational backgrounds, to come to a conclusion. I need to be able to effectively communicate my ideas in order to achieve this goal."
LilliAnna Scott is majoring in environmental policy and planning, with a certificate in sustainability. Scott received a Dale M. and Mary Gail Bentz Scholarship in recognition for her three years of work at the UI Libraries, in both the Main Library and the Art Library. As a first-generation student, she found that working at the Libraries gave her an immediate chance to familiarize herself with the academic resources available at a large research university.
"I have been surprised by the deep connections that the Libraries have with the community of Iowa City outside of campus and beyond. In my time working at the Art Library, I have had the pleasure of assisting many different patrons with a range of interests. I love to see the variety of topics of books that the graduate students check out for research or the many books we send and receive through the Interlibrary Loan. This has truly shown me the powerful connections of libraries and how they enrich our communities."
Skylar Halley, a mechanical engineering student from Fairfield, Iowa, was awarded the Dale M. and Mary Gail Bentz Libraries Student Employee Scholarship. Halley works in the Lichtenberger Engineering Library, where his encounters with visitors and library co-workers exposed him to new fields of study within engineering. Meaningful discussions with one PhD student even encouraged him to reincorporate music into his life. 
"I have learned both how to think on my feet, as well as the right questions and people to ask when I am not sure what to do. Working at the Libraries has provided me with the opportunity to interact with many fellow engineering students, which has shown me the range of people in the field with a multitude of different personalities and approaches towards engineering."
Emiline Heimos was awarded a UI Libraries Student Employee Scholarship for her work at in the bookstacks at the Main Library. Originally from Labadie, Missouri, Heimos studies linguistics (teaching English as a second language) and translation for global literacy. She has come to love the quiet and calm of the stacks, finding a meditative sense of wellbeing among the books. This tranquility has served her in the classroom, where she's noted a sense of increased confidence.
"Working at the library had helped me in many aspects, and developing professional skills is definitely one of them. I have learned patience, how to be organized and precise with my work, and how to think critically when going about my organization. I hope to be an ESL teacher in the near future, and I believe that all of these skills will apply there… as a library patron, you see a cart of books being shelved, and that might be all. Working here, I realized that there is so much more to accomplish, and I am happy to be a part of that."
You can learn more about UI Libraries student scholarships here.