The University of Iowa Libraries are here to help. We provide vital opportunities for engaging in critical learning, research, creative work, and clinical care through staff expertise and exceptional collections.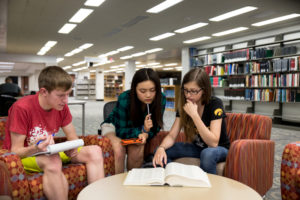 Here are 10 convenient services we provide to support your success. We look forward to assisting you!
1) There are seven University Libraries on campus.* 
2) Specialist librarians for every major and subject.   
3) Access 1000+ research databases with a HawkID.
4) Get quick answers from librarians through the library chat website and text a librarian for help at 319-313-2395. 
5) Have library materials delivered and receive scans of articles and chapters via email.  You can also borrow items not owned by the Libraries through Interlibrary Loan. 
6) Four rare book rooms and five archives provide access to unique resources.
Rare Book Rooms
Archives
7) Receive evening research and library help online and in person Sunday – Thursday from 5 to 9 p.m. at The SEAM (Student Assistance at Main). 
8) There are many places to study in every library, including 24 group spaces in the Main Library's Learning Commons (which also has the Food for Thought café). 
9) Need a calculator, caliper, or colorimeter? 275+ tools are available at the Lichtenberger Engineering Library.
10) Laptops, chargers, and more are on hand to check out. Just ask.
LEARN MORE