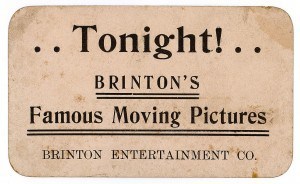 Tonight Only!  The Brinton Silent Film Project
Friends of the UI Libraries Annual Event
Wednesday, May 6, 2015
Join Mike Zahs and Red Cedar Chamber Music for an evening of motion pictures and music from the earliest days of film. In the late 19th and early 20th centuries, The Brinton Entertainment Co. of Washington, Iowa, would travel throughout the Midwest bringing films, magic lantern slides, and other forms of entertainment to populations who, in many cases, had never before seen such sights.
Now, the Brinton Collection is being preserved by the UI Libraries, and Zahs, partnering with Red Cedar Chamber Music, will show the silent films with a newly-commissioned score. The filmmakers from Northland Films, who have been documenting the Brinton Collection project, will discuss their film and show a special preview.
Following the program, a reception will be offered in Special Collections, with the opportunity to interact with Zahs, the musicians, and the filmmakers and the chance to view some of the artifacts.
Program at 5:30 PM
Shambaugh Auditorium, Main Library
Reception at 6:30 PM
Special Collections Reading Room, Main Library
cash bar, light refreshments
The event is free, but reservations ARE appreciated. RSVP by Thursday, April 30th, 2015, by calling 319-335-6093 or e-mail lib-friends@uiowa.edu
Individuals with disabilities are encouraged to attend all University of Iowa-sponsored events. If you are a person with a disability who requires a reasonable accommodation in order to participate in this program, please contact The University Libraries in advance at 319-335-6093.