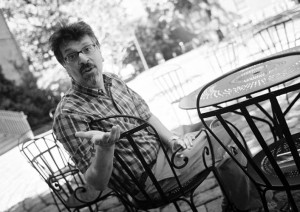 Open access publishing's place in the humanities is uncertain at the moment, and knowledge of it will be important going forward in resolving inequitable relationships between presses and authors, journal vendors and libraries, and publishers and readers. The University of Iowa Libraries has invited  Don Share, senior editor of Poetry magazine, to talk about open access publishing platforms and contemporary humanities literature and scholarship.
Monday, October 29th at 3pm
Illinois Room of the Iowa Memorial Union
(Share will also be giving a poetry reading at Prairie Lights in the evening, at 7 pm.)
In 2002, Ruth Lilly, heiress to the Lilly pharmaceutical fortune, left Poetry magazine 100 million dollars upon her death, and among the things Poetry has done with the Lilly bequest is go open access. Each month the magazine publishes a print issue, as it has been doing for 100 years, and since 2003 it has simultaneously made each issue's contents freely available on its website (see http://www.poetryfoundation.org/poetrymagazine/). Don Share was one of the principle architects of this initiative, and he is in a unique position to discuss how literature and humanities scholarship function on an open access platform.
Don Share is Senior Editor of Poetry magazine. His books include Squandermania (Salt Publishing), Union (Zoo Press), Seneca in English (Penguin Classics), and most recently a new book of poems, Wishbone (Black Sparrow), and Bunting's Persia (Flood Editions); he has also edited a critical edition of Bunting's work for Faber and Faber. His translations of Miguel Hernández, collected in I Have Lots of Heart (Bloodaxe Books) were awarded the Times Literary Supplement Translation Prize and Premio Valle Inclán, and will appear in a revised edition from NYRB Classics. He has been Poetry Editor of Harvard Review and Partisan Review, Editor of Literary Imagination, and curator of poetry at Harvard University. With Christian Wiman, he co-hosts the monthly Poetry magazine podcast and has co-editedThe Open Door: 100 Poems, 100 Years of Poetry Magazine (University of Chicago Press). For his work at Poetry he has earned two National Magazine Awards for Editorial Excellence.
Praise for Don Share's poems:
"Don Share's work is compressed as a haiku, intent as a tanka, witty as a sonnet, witless as a song, relentless as an expose, patter without pretension . . . his elegant poetry, exposed as a haiku, expansive as a renga, boisterous as a bridge, happy as Delmore Schwartz with Lou Reed and vice versa, vivacious as the living day . . . built out of attention, music and sight." -David Shapiro "Share is one of the more gifted craftsmen we have writing in America today." -Erin Belieu, Boston Review
"Few poets manage such dexterous and fresh music." -Alice Fulton Praise for The Open Door: 100 Poems, 100 Years of Poetry Magazine (University of Chicago Press)
"If readers would like to sample the genius and diversity of American poetry in the last century, there's no better place to start than The Open Door." (World Literature Today)
"A high-wire anthology of electric resonance. . . . The editors then arranged these redefining poems by poets of the pantheon and poets overlooked, underrated, or new in pairings and sequences of thrilling contrapuntal dynamics. Wiman's opening essay is titled 'Mastery and Mystery,' and those are, indeed, the forces at work here, inducing readers to marvel anew at the strange impulse to write poetry and the profound effort required to do it well." (Booklist)
"With this collection, Share and Wiman want only to promote the art of poetry, something they do exceedingly well. Highly recommended." (Library Journal, starred review )
"A wonderful anthology. . . . In many ways this is a wonderfully democratic anthology–to get in, you don't have to be famous, you just need to be good." (National Post, Canada)