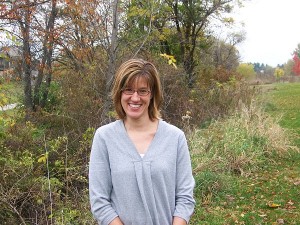 Jennifer DeBerg is recipient of the Arthur Benton Excellence in Reference Services Professional Development Award. This award is given biennially to a University Libraries' professional staff member who has demonstrated outstanding commitment in providing reference service for the university community. The honor includes a $1,000 stipend to be used for professional development activities related to the advancement of reference services.
The University Libraries will have a special celebration to honor Jen. Please join us.
Wednesday, September 26 at 3:00 p.m.
Room 401 of the Hardin Library for the Health Sciences
Jen was nominated by Patricia Clinton, Clinical Professor and Assistant Dean in the College of Nursing, who notes that she is "eager to work with nurses and took the lead in a recent publication that will assist practicing nurses search for best practices. This is critical if nurses are contributing to better health outcomes for patients. Indeed the confidence one gains from standing solidly on the evidence cannot be stressed enough."
Students value her "willingness to communicate and make herself available to the needs of students [which] far exceeded my expectations." Andy Whitters, College of Nursing student also commented that she helped him "build many meaningful and statistically valid resources for many assignments. Her knowledge of infomatics, data retrieval and library science are outstanding."
Jen also has worked extensively with Clinical Associate Professor Tess Judge-Ellis. "Jen's involvement goes above and beyond. Her assistance and commitment to [our] objectives has made the experience really memorable for the students."
Clinton also noted that "library orientations have been known to be dry and perhaps a little boring? Not Jen's orientation! She makes the library warm and welcoming and just the place to find the answers you are looking for. Each request for help receives the same high standard of service. This is clearly her passion and not just a job."
Jen joins Dottie Persson, John Forys, Kathy Magarrell, Kären Mason, Dave Martin and John Schacht as recipients of this award.