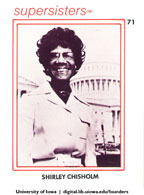 If the election this year is anything like 2004, 70 percent of Asian American women and Latinas, and 40 percent of African American women will be missing at the polls on Election Day. Learn how to make this election different.
Engage Her! Getting Minority Women to Lead and Vote Film Screening and Discussion
Tuesday, October 28 at 6:00-8:00 p.m.
Second Floor Conference Room Main Library (2032)
Touching on the history of suffrage, and featuring interviews with politically active women from a variety of backgrounds, Engage Her! is "a groundbreaking documentary about the importance of mobilizing women voters, particularly women of color from underrepresented groups."
Join us on October 28. Vote on (or before) November 4.
Co-sponsors: Center for Diversity & Enrichment, Council on the Status of Latinos, Iowa Biosciences Advantage, Iowa Edge, University Libraries, College of Nursing, Women in Science & Engineering, Women's Resource & Action Center