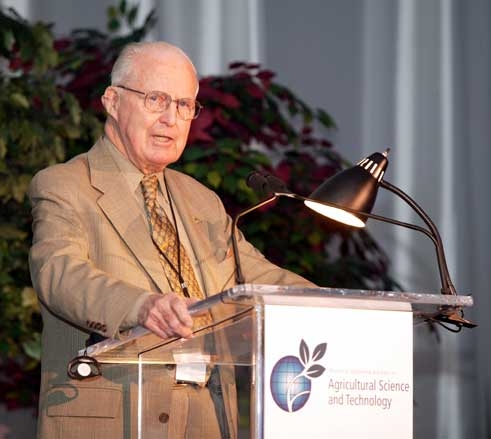 Norman Borlaug, Iowa native, Nobel Prize winner, founder of the World Food Prize, and recent recipient of the Congressional Medal of Honor, is credited with saving billions of lives worldwide through his agricultural research as a microbiologist. His early career with the Forest Service of the U.S. Department of Agriculture established the foundation for further study of plant pathology and improved food production. His research led to the development of disease resistant varieties of wheat which are adaptable in various growing conditions, and provide exceptionally high yield potential. His achievement revolutionized agriculture and earned his reputation as the "Father of the Green Revolution."
The government publications collection at The University of Iowa Libraries contains a rich variety of materials from the U.S. Department of Agriculture for both researchers and consumers. The collection spans more that 100 years of research and documents the enormous change in methods of land and plant stewardship and animal husbandry. Food and nutrition, natural resources and environment, animal-borne diseases, climate and trade are a few of the topics included in the collection.
To locate recent titles go to InfoHawk. To search for books and journal articles go to Agricola, the National Agriculture Library database. Not all of the government publications in the UI collection are searchable in InfoHawk, but may be found by using specialized indexes such as the Cumulative subject index to the Monthly catalog of United States Government publications, 1900-1971 (shelved in Main Reference Collection FOLIO Z1223 .A181). Ask a librarian if you would like assistance.