Eight Below, The Magnificent Seven and Shall We Dance?. What do these titles have in common?
They are all films were first developed by Japanese filmmakers and later remade for American audiences.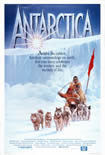 In the 1983 movie, Nankyoku Monogatari or Antarctica, two Japanese scientists, Ushioda and Ochi, develop a bond with their sled dogs while on an expedition in Antarctica. Ushioda and Ochi eventually leave Antarctica, only to return to search for the dogs inadvertently marooned there. In 2006, Walt Disney Pictures released Eight Below. Both films were loosely based on a 1958 Japanese expedition to the South Pole.

Shichinin no samurai or Seven Samurai is a 1954 film about a village of farmers that hire seven samurai warriors to combat bandits who return after the harvest to steal their crops. The Magnificent Seven is a 1960 Western with many of the same scenes and even some of the same dialogue.
Shall We Dansu? was released in Japan in 1996. It is the story of an unhappy accountant who secretly begins taking ballroom dance lessons. The film was very popular and won the Japanese Academy Award for Best Picture. The American remake Shall We Dance? did not receive as much critical acclaim.
Interested in other films that were originally created in East Asia and remade into motion pictures in the United States, check out this selected bibliography. You can also learn more about the Japanese Collections in the UI Libraries and contact the Japanese Collections Librarian.
Celebrating Asian Pacific American Heritage Week, the Asian Pacific American Cultural Center (APACC) is hosting a number of events including a screening of the film entitled "Better Luck Tomorrow" on Thursday night in the Adler Building at 7 p.m. For more information about the events contact APACC President, Ben Mai.