ADAM LONICER (1528-1586) Kreuterbuch, kunstliche Conterfeytunge der Bäume, Stauden, Hecken, Kreuter, Getreyde, Gewürtze. Printed in Frankfort by Christian Egenolph, 1587. 382 numbered leaves (764 pages) with color illustrations. 31 cm tall.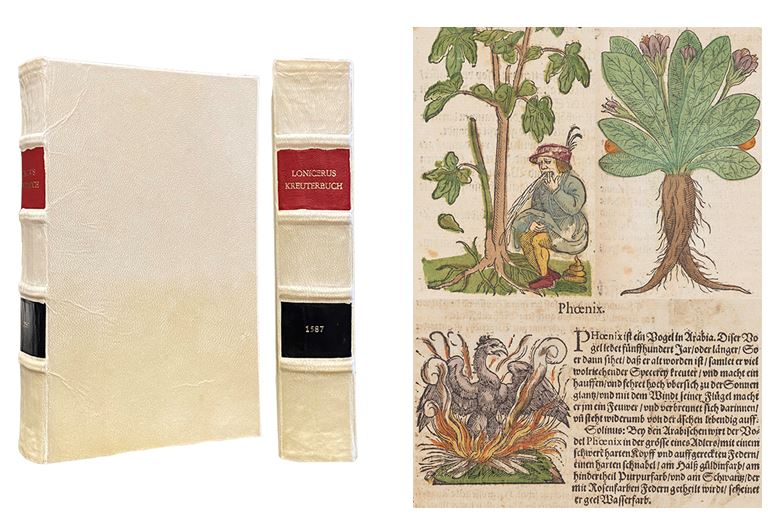 We know from other sources that Lonicer (also referenced as Lonitzer, Lonicerum, Lonicerus, or Loniceri) worked as a proofreader for his father-in-law, a German printer who specialized in producing herbals. He eventually went on to write his own works covering mathematics, medicine, and botany. Kreuterbuch… (originally titled in Latin, Naturalis historiae opus novum) was published in 1546 and, although much of it was not original to Lonicer, became a hit. The book saw several editions, including the 1587 edition described here. The last edition was printed in 1783.
The text covers much of the known natural world at the time and had a wide audience that included physicians, apothecaries, and both rural and urban householders. The emphasis is on how one uses animal, vegetable, and mineral substances in the production of medicinal, gastronomical, and household preparations. Lonicer provides us with one of the early descriptions of local flora, and, among his other accomplishments, he is one of the first to distinguish deciduous trees from conifers.
The most striking features of this book are its hundreds of hand-colored woodcuts. As one can imagine, coloring in each image is an intensive task and would have greatly increased the cost of the book. Because of this, many existing early printed herbals are found unpainted. The book was rebound at an unknown point in the 20th century with a soft, milky vellum (calfskin parchment) over pasteboard (sheets of paper pasted together to create a stiff board). The spine titling consists of black and red leather labels with gold tooling. These contrast nicely with the lighter cover.
The book also has excellent examples of conservation work, including the application of a thin, strong Japanese paper on the outer margin of the first leaf. This part of the leaf has been heavily used and is now damaged and brittle. The application of the paper support strengthens the edge and lessens the chance of further damage. This same paper was also to repair the inner margin between a few other leaves. The text block shows the staining, wear, and foxing (oxidation of iron particles in the paper) one would expect from a book of this age but is still in great condition. With proper care, it will have a happy, long life here at the John Martin Rare Book Room!
For more on Lonicer and other Herbals, check out the U. S. National Library of Medicine and the Edward Worth Library in Dublin.
If you or your group are interested in seeing this or other items mentioned in our newsletters, please contact Damien Ihrig at damien-ihrig@uiowa.edu to arrange a visit in person (one person) or over Zoom (one or more people).
Individuals with disabilities are encouraged to attend all University of Iowa-sponsored events. If you are a person with a disability who requires a reasonable accommodation in order to participate in this program, please contact our office in advance at damien-ihrig@uiowa.edu or 319-335-9154.