DEMOURS, ANTOINE PIERRE (1762-1836) Traité des maladies des yeux : avec des planches coloriées représentant ces maladies d'après nature, suivi de la description de l'œil humain / traduite du latin de S.T. Soemmerring [Treatise on eye diseases: with colored plates representing these diseases from nature, followed by the description of the human eye] Printed by Crochard in 1818. First edition. 4 volumes. 21 cm tall (Volume 4 is 27 cm).
This four-volume work, one of the most important and elaborate books on the diseases of the eye published to that time, includes the first full description of glaucoma in which heightened intraocular pressure is recognized. The work is a compilation of hundreds of carefully annotated case histories obtained in the course of the author's 20 years of experience and from his father's nearly 50 years of practice. Credit for the observations on glaucoma belongs principally to the father, Pierre Demours, who was the superior clinical investigator, though it is quite properly shared with the son who excelled as a surgeon.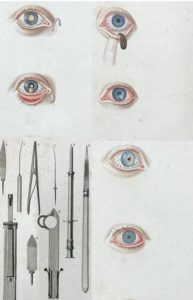 The final volume contains a French translation of the Latin edition of S.T. Soemmerring's Abbildungen des menschlichen Auges [Illustrations of the Human Eye]. The 65 plates include remarkable specimens of early printed color illustrations.
Demours obtained a reputation more for his bold and skillful operations than for his scientific contributions. He became oculist to the Kings Louis XVIII and Charles X of France. Demours' operation to transplant an artificial pupil created a great sensation, not only in France but all over Europe.
The four volumes are modestly bound, with a dark blue paper pasted over paper boards. The first three volumes contain only text, and all the books show minor foxing (reddish-brown staining due to chemicals inherent to the paper and their interaction with the environment) throughout. Even with a simple binding, given its size and vibrant illustrations, the fourth volume definitely stands out from the others!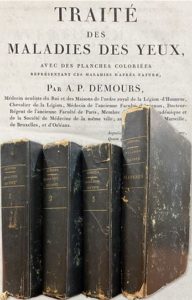 If you are interested in seeing this , please contact Curator Damien Ihrig at damien-ihrig@uiowa.edu to arrange a visit in person or over Zoom.
Individuals with disabilities are encouraged to attend all University of Iowa–sponsored events. If you are a person with a disability who requires a reasonable accommodation in order to participate in this program, please contact damien-ihrig@uiowa.edu or call 319-335-9154.